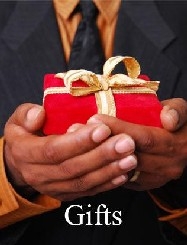 When electronic toys or gifts are for men, the thanks is genuine
Forget the ties and handkerchiefs. Run at full speed past the candy counters and their cargoes of fattening fudge and explosive chocolate covered cherries. Try to resist jumping over the side of the shopping mall?s escalator as it rises past level after level of enclaves harboring flannel bathrobes, office supplies or garden tools.
Electronic toys and gadgets are the object of many a guy?s affections this year. And an addiction to anything that whirs, hums, glows or does its digital best to please a man is an addiction worth enabling.

Offbeat pup?
There are a multitude of unusual high-tech gifts from which to choose. For instance, a guy whose tastes run to the offbeat might go gaga over one of the most amusing yet useful of tech gadgets we?ve seen in a while ?an electronic guard dog.
Imagine peeking out the window as someone comes near his house?or office, boat, or motor home. The electronic guard dog?s compact sensor detects from about 30 feet the approach of any visitor?welcome or not.
As the person draws near, the barking intensifies into the kind of uproar made by one really big, probably hungry and definitely agitated canine carnivore?the electronic guard dog. The dog, whose barking can turn into a shrill siren, if preferred, is just one of many unusual electronic gifts for men.
~
Explore new horizons
 
Among the new generation of electronic gift choices are those that take a fellow on a direct route to anywhere, on land or water.
Some of the most advanced Global Positioning System (GPS) units now come with maps for environments ranging from mountainous regions to coastal waterways.
A hiking trip in rugged terrain or a silent canoe trip through a primordial bayou is more enjoyable when there?s no fear factor for the man?a guy who?s concerned about becoming separated from friends, family, or the bacon and eggs back at camp, all without having to stop and ask for directions the ultimate fun-killer for guys!
For those who love electronics that do more than one thing, there are GPS units that are fish finders, capable of locating schools of fish swimming in the current. There are night vision goggles for hunters. And there are units that keep track of where they found that absolutely perfect camping spot, so they can head back there next time. Devices that follow his route in, so he can follow the same trail out are also growing in popularity?no need to deal with blocked trails or washed out bridges the GPS might not have in its data base. (These are perfect for cyclists, too!)
Make his listening easy
Whether your guy is outdoorsy or likes to confine his weekend activities to indoor venues, odds are he likes music.  So you probably can?t go wrong with anything that makes his music experience better.
Headsets have come a long way since the days of dessert plate-sized ear pieces, but some guys are still using the ones they bought in high school. Other men are relying on sound-challenged cheap-o earbuds (you know the kind you get for a buck at the checkout in the grocery store!)

Trust me, you can get him something w-aaaa-y better!
For listening at home or in the office, opt for a pair of noise-cancelling headphones that bring him the full range of sound, without the annoying background sounds like ringing phones or barking dogs. There are even collapsible versions that bring all the sound and noise-cancellation, but then fold down to fit in a pocket or pouch (perfect for frequent flyers!)
For everyday listening, or grabbing for listening to tunes or podcasts on the go, get him a pair of high-end, super compact earbuds. They might look like the grocery store kind, but after a single song, he will know (and love!) the difference.
Apply some imagination

There is a world of choices to be made when just a little imagination is applied to obtaining electronic gifts for men. Give some consideration to what a man enjoys?hobbies, outdoor activities, sports, cooking, and the like. Electronics abound in all fields. Choose with forethought. Choose with care. Wrap it up with a smile and inspire from him a surprised, ?Oh, you shouldn?t have. But I?m glad you did