Which electronics you need for travel abroad
By Catalogs Editorial Staff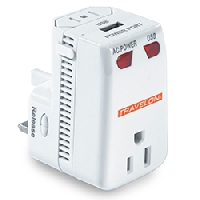 Don't forget to pack these electronics before traveling abroad
Necessary and discretionary items make up electronics for travel abroad. Necessary items are adapters and converters to charge your phone, laptop or tablet, and your digital camera. Discretionary items are the fun stuff, from alarm clocks to book lights.
A world divided
North American electrical grids provide power from 110 to 125 volts. The rest of the world uses mostly 220 to 240 volts. Converters or transformers let devices operate on systems they weren't originally designed for. But a converter or transformer may not be enough to charge your mobile ? you also need the right plug for the place you're traveling to. At least eight different types are common.

Plugged in
Before you continue reading about the Which electronics you need for travel abroad there is a special announcement we would like to share with you. Catalogs.com has negotiated special medicare rates for our vibrant community of seniors. If you are over the age of 60, you can head over to our Seniors Health Section which is full of information about medicare. All you need is your zip code and a few minutes of your time to potentially save 100s of dollars on your medicare bills.
First things first. You may already have certain cables and adapters. Check the box your laptop came in to see if it has an odd looking cord. Are there some adapter plugs in there as well? And what about your cell phone and camera? Anything provided by the manufacturer? If not, don't worry. These problems have been long solved.
Highly adaptable
Stores specializing in travel and portable electronics have a plethora of adapters and converters designed to help you around the world. The more expensive adapters give you more choices and more confidence in handling higher current draws that a curling iron or hair dryer might produce. A circuit breaker or reset button on a adapter is a really nice feature. And check with your hotel when you check in. Just to see what electrical system they are using and which plug you should use.
~
Power storage
Investigate power storage cases or external batteries so you don't run out of juice when you're between charging locations. Some are the size of credit cards and can back up your mobile when you might need it most.
Is this iron necessary?
A word of caution. Flat irons, hair dryers, curling irons and the like use the most watts and are the most likely to give problems when you are in a different country. Decide whether you really need to bring them and then plan accordingly.
A secure future
Now that you're hunkered down in your hotel room with all your electronics, why not feel more secure with a door stop alarm? Such alarms may bring peace of mind when you can't predict how well your hotel secures their doors.
Packing on the pounds
A digital luggage scale may be just the thing if you plan on bringing back a number of souvenirs or other heavy items. Avoid excess weight charges before you get in the boarding line.
Clocking in
A dedicated alarm clock might seem unnecessary when you have an alarm on your phone, however, they are not. Alarm clocks are generally much louder than one on a phone and you will have a backup in case your phone is charging or if it runs out of power.
Light up your life
A small flashlight is always a good idea. Besides power outages, it allows you to navigate hotel rooms at night without waking others.

In an emergency
An emergency ID bracelet will help first responders in case of a crisis. A USB device, one flash drive bracelet has templates for entering your personal and medical information from a PC or a Mac.
What every book needs
Are hotel rooms ever lit well enough to read? It seems not, especially with most hotels changing to lower watt lamp bulbs. Fight back, then, with a small, portable reading light that will clip to the back of your book and then stay at the right angle for your read.
In summary, electronics for international travel should be composed of those things that keep your digital life going, then things that will enhance your tour or vacation.
Popular Savings Offers