Embracing the challenges of workforce diversity
By Catalogs Editorial Staff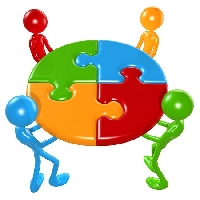 Diversity in the workplace can make your team more creative and productive
Your employees and coworkers weren?t created with a cookie cutter. Everyone comes from a unique set of circumstances and cultural influence which can sometimes make working together challenging ? but it doesn?t have to be.
Embracing the differences, and learning to communicate with one another through those differences, can make your workplace richer and more productive than ever before. 
In the changing demographics of our time, many employers are facing a workforce coming from deep economic instability, and need the tools to address a tenuous economic reality.
Before you continue reading about the Embracing the challenges of workforce diversity there is a special announcement we would like to share with you. Catalogs.com has negotiated special medicare rates for our vibrant community of seniors. If you are over the age of 60, you can head over to our Seniors Health Section which is full of information about medicare. All you need is your zip code and a few minutes of your time to potentially save 100s of dollars on your medicare bills.
Youthful Energy vs. The Wisdom of Experience
As Millennials enter the workforce and start butting heads with Baby Boomers (and Gen Xers are stuck somewhere in between), things can get a little hairy.
Your older, more experienced workers are looking toward retirement, and are motivated by the spoils of achievement ? certifications, accolades, a solid healthcare plan, and a robust 401k. These are workers who came into their profession playing the long game right from the start; a generation of dogged, hard-working go-getters who have always looked out, primarily, for number one.
Millennials, however, are proving to be a different generation altogether, and this is not entirely due to their youth. This generation was brought up knowing there is no ?I? in TEAM. While they may not be totally selfless (and many from older generations would laugh at the thought), they are not ones to feel a burden lies wholly on their shoulders. Millennials are smart and technologically driven. They are creative and never really knew there had to be a box to think outside of in the first place. This is the generation coming into their own in the age of smart phones, social media, climate change, and crowd sourcing. They are facing some of the toughest challenges of the human race, and they are doing it with practically no proven set of rules, and no safety net. Their world, from the beginning, is flexible, and often unstable. 
So what happens when you bring these two worlds together?
If there is mutual respect and open communication, this team can accomplish anything. Creativity and stability can merge to support peak performance and goal setting from a group which otherwise wouldn?t be able to relate at all. 
Economic Diversity
As the middle class slips away, more and more of the available hiring pool are the working poor, most of whom were raised in dire straits, which gives them a unique perspective on life and work ethic. While your more economically stable employees may have no trouble keeping life and work separate, economically unstable workers will face challenges that will need to be addressed in order to keep things running smoothly. 
The first thing to remember when dealing with employees living in unstable circumstances is this: as much as they need a job because they need an income, you are not their first priority. These individuals are in survival mode, and keeping their homes and families safe, fed, and together will take precedent over any job. If they lose this job, they will find another.
However, if you want to be competitive in this ever-changing job market and avoid high employee turnover (which has been proven to increase your bottom line), it would behoove you (and your company) to look at creative benefits to help stabilize your workers? lives. Perks like childcare, paid time off, and communicating about transportation needs can help an otherwise unstable employee feel more secure in their environment.
And talking about these issues openly and honestly can give your team the incentive to trust you. Trust is an important factor for low income employees. Loyalty is not a given when workers are struggling to survive ? loyalty is built when they feel they are appreciated and taken care of. 
In return for your much improved, stabilizing workplace, you will find economically challenged workers are, like Millennials, creative and especially keen at problem solving. Much of their lives have been spent working their way out of one pickle or another, a skill which can be highly useful for your company. They can organize people, things, and virtual situations in ways you may never have dreamed, to get the most out of your budget and meet (and often surpass) those corporate goal lines. This is an often underappreciated group, but they are the largest growing demographic in the country. It is time to embrace reality and give these workers what they need to succeed. 
The American workforce is changing rapidly, and the key to overcoming the adversity these changes bring is to embrace diversity. Once you do this, you will see your workplace thrive and your company grow in ways you never imagined. 
Popular Savings Offers