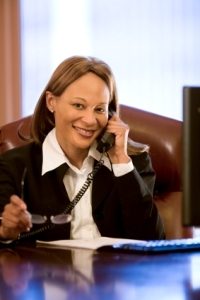 What does your executive office say about you?
As an executive or home-based business owner, you are the front man, or woman, of your organization. You've spent long, hard hours working to build the company and get to where you are. You are proud of your accomplishments, and rightfully so.
Does your office show that pride? Oftentimes your computer desk furniture can say more about you than you do. As basic as a desk is, it's often what makes the first impression on people when they enter your office. What does yours say? Does it whisper modern sophistication? Or does it scream shabby chic, without the chic?
What's your Executive Style?
Stylistically, your office should reflect your tastes and the personality of the company. More importantly, though, it should present a professional and impressive image to visitors. The office should convey your success and dedication.
When getting started, it helps to examine your favorite textures, wood types, colors and patterns to get a feel for the atmosphere you want to create.
— Do you favor dark woods like cherry, maple and mahogany? Or will a lighter stain fit in better with your personality and d?cor?
— Many executive office furniture collections can be solid wood, wood veneers or a combination of both. You should know the difference between the two.
— In modern and loft styles, other materials like glass, polycarbonate and metals are mixed with woods to create a unique, modern design that's perfect for a young, less traditional company.
— Most executive desk collections have locked storage drawers and other compartments so you can keep records and account information secure. Make sure there is enough storage and that it's adequately secure for your needs.
— Determine if you will need to expand later to include pieces such as a matching conference table, more shelving and additional seating.
— Make sure you have adequate measurements and the space to function efficiently with the pieces you choose.
 ~
The Changing Workplace
The executive office collections of today are not what they used to be. Gone are the days when you had a huge traditional desk with unchangeable components, a credenza and some bookshelves. Executive desks are now made more like modular furniture with interchangeable elements, the ability to mix and match or add on later.
Consider how you work during the day. If you have frequent visitors, don't take up your entire office space with a massive desk that crowds out guest chairs. And with everyone in the workplace becoming more mobile and working wireless, the furniture you choose needs to keep up.
Expensive-looking built-in, custom furniture looks very rich but it's not cost-effective in the long run especially if you are putting your executive furniture in your home office. You can achieve the same opulent look with portable furniture that you'll be able to reconfigure as your needs change.
The Chair
Executive chairs have become high-tech instruments of comfort and design ingenuity. With the increasing number of work-related injuries due to poor seating and insufficient arm support, the executive chair today can be equipped with adjustable arms, air cushioned lumbar support, thigh extensions for taller users, geared recliners and suspension systems.
A good chair is the most important part of your executive collection as you are probably well aware. As an executive, you are likely to spend over 80,000 hours of your life working from a seated position. You should test drive a few to make sure you get one that's a perfect fit.
— Sit down and make sure your weight is distributed evenly across the entire seat without too much pressure on your thighs.
— The front should have a rounded or waterfall edge that helps prevent cutting off your circulation.
— The chair should be able to tilt backward or forward as needed to redistribute weight.
— The armrests, back and height can all be easily adjusted.
— The back has adequate, and hopefully, adjustable lumbar support.
In keeping with chair technology and changing workplace demands, furniture designs are becoming much more creative. Executive office collections are customizable, following the same trends as contemporary office space trends. Comfort, function and flexibility play a big part in creating a quality collection that has a richness to it. Your executive office should have all those elements.