What is extreme go karting
By Catalogs Editorial Staff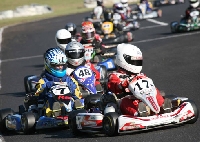 Extreme go karting is adrenaline on wheels
Extreme go karting is where racers go for a most intense experience. Adrenaline addicts live by the logic that if a little of something is good, than a whole lot is even better. Therefore, the urge to take every sport ? surfing, skiing, snowboarding – to the next level is only natural. 
As with all extreme sports, every aspect of this activity ? the engine, course, rules and players – is maximized for peak performance. Speeds in these high-performance go karts go as high as 35-45 mph on a track with many turns, and up to 65 mph on a straight track. So buckle up as this is not a ride for the faint of heart.
Safety first
Before you continue reading about the What is extreme go karting there is a special announcement we would like to share with you. Catalogs.com has negotiated special medicare rates for our vibrant community of seniors. If you are over the age of 60, you can head over to our Seniors Health Section which is full of information about medicare. All you need is your zip code and a few minutes of your time to potentially save 100s of dollars on your medicare bills.
When you?re strapped in a kart that can go 45 miles in an hour, safety is vital. The main thing to keep in mind is that just because these karts can accelerate to a breakneck speed doesn?t mean they always should when you?re sitting an inch off the ground on an unfamiliar course. Tracks with many sharp turns don?t lend themselves 40 or even 30 mph in places.
Quick reflexes are a huge advantage to racers. Respond to the course you?re on by keeping your left foot over the brake pedal, but don?t push the brake and gas at the same time. It?s a challenge to control speed on difficult courses, but the whole appeal of extreme go karting is that it?s more of a challenge. 
Drive with laser-like focus on the path ahead because the course is only half the picture. A spun out driver will require you to immediately hit the brakes. Keep an eye out for waving flags signalling the need to stop.
Always wear closed-toe shoes to drive a go kart and remember that they're not bumper cars so steer clear of fellow racers ? even if one's your brother.
~
The fun stuff
What can you expect if you strap into a kart? While there are exceptions, many of the extreme go karting courses are indoors, which means they?re temperature controlled and not subject to slippery tracks and other elements. 
People of all ages enjoy racing ? adrenaline does a body good. The age requirement is 16 at most tracks. If a younger teen is tall enough and has permission from a guardian they may be able to race, but it?s up to the discretion of the business.
Extreme tracks will make you a better racer. The heightened experience sharpens steering skills and response times. It also helps you cultivate a more intuitive racing style and channel all that excited energy into passing the person in front of you.
A number of tracks post racers' best times so you?re not only competing with who happens to be ahead, but with other racers who came before. This is when a competitive streak will begin to take hold. Your eyes scroll to the top time and you fingers itch to grab the wheel and earn that top spot.
Since indoor tracks are open year-round, they're also a fun choice for parties and team-building activities. Companies can rent out the entire course and organize team races that'll bring out a whole other side in office colleagues. Bachelor and bridal parties looking for something a little different should hop behind the wheel for a few quick spins before the margarita madness begins.
Extreme sports bring out the best in people because they present an opportunity to push beyond the limits of what you think you're capable of. They also help racers not take themselves too seriously. How can you when a 16-year-old flies past and the biggest concern of the moment is not riding the brakes?
Once you learn to manage the power of an adrenaline rush, the word ?fun? hardly does the experience justice. Whether you go on a date, with a group of friends or by yourself, racing is a refreshing break of the usual routine and forces you to expect the unexpected.
Popular Savings Offers