Facts about Puerto Rico
By Catalogs Editorial Staff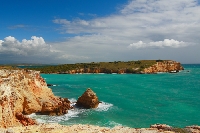 Planning a Trip to Puerto Rico? Tourist Information About the
The island of Puerto Rico, although less than 100 miles long and five miles wide, is a celebrated tourist destination featuring unique historic sites, rich culture and entertainment, a tropical climate and picturesque landscape. In fact, Puerto Rico has been nicknamed ?The Island of Enchantment.?
If you are currently planning a trip to the Caribbean or researching vacation packages, these facts about Puerto Rico may prove helpful.
Landscape and Geographical Facts About Puerto Rico:
Before you continue reading about the Facts about Puerto Rico there is a special announcement we would like to share with you. Catalogs.com has negotiated special medicare rates for our vibrant community of seniors. If you are over the age of 60, you can head over to our Seniors Health Section which is full of information about medicare. All you need is your zip code and a few minutes of your time to potentially save 100s of dollars on your medicare bills.
The tropical landscape and unusual geography of Puerto Rico offers something for everyone.  Certainly, Puerto Rico is popular for boasting some of the most gorgeous beaches of the Caribbean ? over 300 miles of beach front in total. However, Puerto Rico also contains a lush tropical rain forest,  a desert forest filled with rare cactus species, and a spectacular cave system, millions of years old, that has attracted explorers, scientists and spelunkers from around the globe.
Snorkeling and Scuba Diving in Puerto Rico:
Puerto Rico has long been revered as a paradise for scuba divers and snorkelers. The average ocean temperature in the waters surround Puerto Rico is 80 degrees Fahrenheit. Underwater visibility ranges from 50-70 feet near the shore, and over 100 feet offshore. Dazzling tropical fish, see creatures such as turtles, manatees and marine life including sea fans, anemones, and rare black coral are some of the highlights of Caribbean scuba diving.
~
Fishing and Water Sports in Puerto Rico:
Water sports and boating, such as wind surfing, sailing, kayaking, etc. are popular activities on the island of Puerto Rico. Deep-sea fishing is also one of Puerto Rico's most celebrated attractions.  The North side of Puerto Rico is known as "Blue Marlin Alley" due to the vast numbers of migrating marlins. 
Winter is definitely the best fishing season in Puerto Rico. October through early March is the ideal time to catch dorado, white marlin, mahi-mahi, yellow fin tuna and sailfish. Visiting the Puerto Rico Sports Fishing Association is the best way to obtain information about events, excursions, charters and fishing tournaments.

History and Facts about Puerto Rico Culture:
Puerto Rico was originally inhabited by the ancient culture of Taino Indians. After Christopher Columbus discovered Puerto Rico in 1493, the Taino culture slowly vanished. The island was governed by Spaniard rule for over 400 years. The Spaniards built cities, fortresses, roads, and basilicas. 
In 1898, at the end of the Spanish-American War, Puerto Rico became a part of the United States as a result of the Treaty of Paris. In 1917, residents of Puerto Rico were granted US citizenship, and in 1952, the island became a self-governing U.S. Commonwealth.
Today, many museums and historical sites provide information about the earliest indigenous culture of Puerto Rico, the rise of the Spanish Culture and Roman Catholic Religion, as well as the contemporary political changes.  
Island Dining and Cuisine:
The Latin cuisine of Puerto Rico is a truly unique fusion of Spanish, Mexican and American culinary traditions and indigenous ingredients. Many fresh fruits, vegetables and spices are grown locally on the island and incorporated into the flavors of restaurant menus. Ingredients such as mango, papaya, plantains, coconut and apio are widely utilized. Spices such as coriander, cocoa, nispero and tamarind are also popular.
Currently the three most hip, and fashionable towns for dinning and entertainment include Old San Juan, which boasts a restaurant and bar district at the southern end of Fortalezaa Street, the town of Condado situated on a placid lagoon, and Santurce a town noted for it's historic architecture, that was once the capital city of Puerto Rico.
Other Interesting Facts About Puerto Rico:
Many tourists are not aware that the island of Puerto Rico is home to the largest and most sensitive Radio Telescope in the world. Measuring thousands of feet in diameter and extending for nearly twenty acres across the lush, rolling island landscape, the Arecibo Telescope has the capability of examining objects over ten-billion light years away.
Popular Savings Offers