Favorite Christmas cookies
By Catalogs Editorial Staff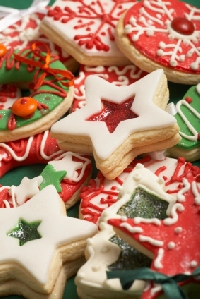 Check out some great Christmas cookie recipes.
All I have to do is hear the phrase Christmas cookies, and I am back in the kitchen of my childhood home, frosting sugar cookies, licking the knife and smothering them with sprinkles. Now that I have kids of my own, I get to make my favorite Christmas cookies with them and watch their eyes light up when they taste a stained-glass window or mincemeat star for the first time.
My dad makes mincemeat stars every year and has for as long as I can remember. He's a huge mincemeat fan. And although I don't necessarily care for the pie, these cookies have a wonderful spicy flavor that just says Christmas to me.
Mincemeat Stars
Cookie dough:
1 1/3 cups shortening
1 ® cups granulated sugar
2 eggs
1 teaspoon vanilla
1 teaspoon grated orange peel
4 cups sifted all-purpose flour
3 teaspoons baking powder
® teaspoon salt
2 to 3 tablespoons milk
1 teaspoon orange extract
1 teaspoon lemon extract
Mincemeat filling:
1 jar mincemeat filling
1 teaspoon orange extract
1 teaspoon lemon extract
1 tablespoon lemon peel
1 tablespoon orange peel

Instructions:
Thoroughly cream the shortening, sugar, eggs, extracts and vanilla. Stir in the peel
Sift together the dry ingredients; add it to the creamed mixture alternately with the milk
Divide the dough in half and chill. On lightly floured surface, roll each half to one-eight-inch thickness. Cut with three-inch round cutter
Cut the small star centers in half of the cookies
Mix the jar of filling with extracts, and peel. Place one heaping tablespoon of filling on each plain cookie. Top with a cut-out cookie; press edges with fork to seal
Bake on a greased cookie sheet at 375-degrees Fahrenheit for 12 minutes. This recipe makes two-and-a-half-dozen cookies
The sugar cookie dough in the mincemeat star recipe is some of the best I've ever tasted. Make a double-batch, roll it thin and cut using your favorite Christmas cookie cutters. After they cool, top them with a batch of this homemade butter frosting.
Homemade Butter Frosting
Ingredients:
3 cups powdered sugar
3 tablespoons butter, softened
3 teaspoons vanilla
1 to 3 tablespoons milk
Instructions:
Mix the sugar and butter until completely mixed. Add the vanilla.
Add milk a little at a time until you reach the right consistency. Leave it a little thick, and divide into thirds in separate bowls.
Add red food coloring to one bowl, green to another and leave the third white.
Frost the cookies and then add your favorite Christmas sprinkles. This is a great project for kids to take part in!
~
Stained-glass Window Cookies
My youngest sister's very favorite Christmas cookies are stained-glass windows. They are chocolatey and colorful and look beautiful in an assortment of cookies arranged on a holiday plate.
Ingredients:
1 small package chocolate chips
2 tablespoons butter
1 egg
1 cup powdered sugar
® cup chopped walnuts
® package colored mini-marshmallows
Flaked, sweetened coconut
Instructions:
Melt the chocolate chips and butter together over low heat, stirring constantly
Remove from the heat and allow it to cool slightly
Add the egg and powdered sugar, and mix it well. Add nuts and marshmallows, and mix that well
Form it into a thin log, and roll it in the coconut
Freeze it, and then cut into one-half-inch slices. Store it in your fridge or freezer
Chunky Pecan Pie Bars
The above recipes are somewhat time consuming. But if you need some delicious cookies quickly, you can't go wrong with these bar cookies.
Ingredients:
1 ® cups flour
® cup butter, softened
ª cup brown sugar
3 large eggs
? cup corn syrup
? cup sugar
2 tablespoons melted butter
1 teaspoon vanilla
1 package chocolate chunks (11.5 ounce package)
1 ® cups chopped pecans
Instructions:
Preheat your oven to 350-degrees Fahrenheit
Beat the flour, one-half-cup butter and brown sugar in a small bowl until crumbly
Press into the bottom of a prepared pan
Bake 12 to 15 minutes or until lightly browned
Beat eggs, corn syrup, sugar, melted butter and vanilla in medium bowl with a wire whisk. Stir in the chunks and nuts
Pour it evenly over the baked crust
Bake 25 to 30 minutes or until set. Cool and cut it into bars
Peanut Butter Chocolate Layer Bars
Ingredients:
2 cups crushed peanut butter sandwich cookies
3 tablespoons butter, melted
1 ª cups lightly salted dry-roasted peanuts, chopped
1 cup chocolate chips
1 cup flaked, sweetened coconut
1 14-ounce can sweetened condensed milk

Instructions:
Preheat your oven to 350-degrees Fahrenheit
Combine the cookie crumbs and butter in a small bowl and press it into the bottom of a prepared pan
Layer the nuts, chocolate chips and coconut over a crumb mixture
Drizzle sweetened condensed milk over top
Bake 20 to 25 minutes or until coconut is golden brown. Cool and cut it into bars
Christmas cookies can also make great gifts. Make a double batch of each of the above recipes. Purchase some inexpensive Christmas tins and arrange an assortment of cookies in each tin, separating the layers with waxed paper. Who wouldn't love to receive a tin of your favorite Christmas cookies to share with their family?
Popular Savings Offers
Before you continue reading about the Favorite Christmas cookies there is a special announcement we would like to share with you. Catalogs.com has negotiated special medicare rates for our vibrant community of seniors. If you are over the age of 60, you can head over to our Seniors Health Section which is full of information about medicare. All you need is your zip code and a few minutes of your time to potentially save 100s of dollars on your medicare bills.