How to find a gift for anyone
By Catalogs Editorial Staff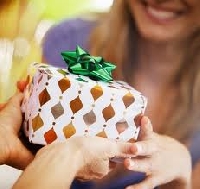 Find a gift for anyone with these tips to show giving is better than receiving!
Finding a gift for someone can be tricky, particularly when you don't know much about the person, or it seems he or she already has everything. However, if you take some time to think about the person, what he might need or what his interests are, you can likely find a gift that he will appreciate and enjoy. Believe it or not, you can make gift-giving fun and meaningful when you know what to look for.
Interests
Even if you don't know much about a person, you likely know what a few of her interests are. Giving the receiver a gift that pertains to an interest in her life is ideal, as she likely wants it and maybe even needs it.
Before you continue reading about the How to find a gift for anyone there is a special announcement we would like to share with you. Catalogs.com has negotiated special medicare rates for our vibrant community of seniors. If you are over the age of 60, you can head over to our Seniors Health Section which is full of information about medicare. All you need is your zip code and a few minutes of your time to potentially save 100s of dollars on your medicare bills.
For example, if the person likes grilling or eating barbecue, products that enhance the grilling experience are sure to be a hit. For example, a new grill, fryer or smoker, or accessories like charcoal starters or covers, will likely tickle the person's fancy.
If the person likes a particular sport or team, go ahead and give him a gift that has to do with that subject. For instance, a collectible from their favorite sports team or a new set of golf clubs or tees could be the perfect gifts. When you take a little time to think about what makes the person happy, you're sure to score a gift that the person is happy to receive.
~
Needs
Knowing what a person needs requires a bit of knowledge about him or her. However, you can channel your inner detective and do a little investigating to find out what a good gift would be. If you need to find a co-worker a gift, take a good look at him or her.
If she's pregnant, a gift card to a maternity store could be a hit. She probably needs maternity clothes and may not have the money to buy them.
If a co-worker recently became married or had a baby, a gift-card to a grocery or similar store is likely something that is needed. After all, the couple probably spent a good amount of money on the wedding or on baby items and extra cash is something the person might need.
Helping
Do you know someone who could use a hand around the house? If you have a relative or friend who is older or can't really do much, you could help with the chores. You could also offer to paint the person's home, perform yard work or just about anything the person needs help with. You could simply tell the person your gift idea, or you could create a cute gift certificate and give it to the person. Either way, the person is sure to appreciate your gift idea and will likely be very thankful for what you have done.
Sentimental
Sentimental gifts are always a good idea. Particularly if the person you are shopping for seems to have everything. An engraved photo frame that features a picture of you and that person, or the person's loved ones, will likely be very meaningful to that person. You could also give the person a photo album that holds many of the person's favorite photographs. These gift ideas are great for parents and grandparents, but just about anyone would enjoy a thoughtful gift.
If you need to find a gift for someone you care about, you don't have to spend a lot of money or time purchasing one. With a little thought and effort, you're sure to find a gift that is special and meaningful.
Resources:
How To Do Things: How to Buy a Gift for Someone Who Has Everything
Popular Savings Offers