Find catalogs for your favorite stores
By Catalogs Editorial Staff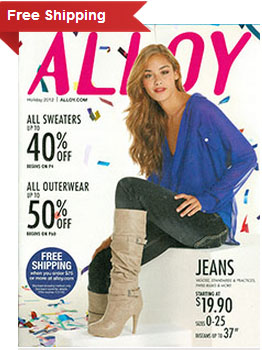 Find catalogs for your favorite stores by searching online
The fashion universe is ever-expanding, and try as you may it is hard to keep up. From fashion magazines to online boutiques, there?s no shortage of material offering tips and trends. In fact, there?s so much noise it?s hard to know what to pay attention to.
Instead of weeding through all of the unsolicited communication that is sent to you, spend the time to find catalogs for your favorite stores and you?re all set. Filled with high gloss photos of the season's hottest trends and all the information you need to make purchasing decisions, catalogs are a welcome sight when they arrive in the mail. 
They bring the familiarity you love into the comfort of your home. Best of all, stores like Delia's and Woman Within highlight only the best fashions that are relevant to you. 
Before you continue reading about the Find catalogs for your favorite stores there is a special announcement we would like to share with you. Catalogs.com has negotiated special medicare rates for our vibrant community of seniors. If you are over the age of 60, you can head over to our Seniors Health Section which is full of information about medicare. All you need is your zip code and a few minutes of your time to potentially save 100s of dollars on your medicare bills.
Retailers hone in on a specific demographic so they serve as an effective fashion filter. Once you have a handful of favorite places, let them do the weeding for you. When the monthly or seasonal catalog arrives, you have the best of the best to choose from.
Where to look online
Go to Catalogs.com to find exclusive deals and a directory of hundreds of print and online catalogs. Whatever you?re looking – fashion, home goods, kids toys or gourmet food ? you?ll find merchants dedicated to sourcing quality products at affordable prices. Input your name and mailing address and expect it in a few weeks.
Most stores have a website with a newsletter sign up on the home page. The newsletter includes sales and highlights new inventory so you never miss a great deal. If the store has a catalog, you?ll usually find a "Request" button on the bottom or top of the home page.
~
If you can?t find the Request button, go to the Contact page and email customer service. Between the exponential growth in online shopping and mobile applications, some stores have stopped producing print, but it?s worth asking.
Like they say, sometimes the most obvious place to find something is the very last place you look. Shoppers who are active on social media sites like Twitter, Facebook and Pinterest should follow and like all of your favorite stores. You?ll receive plenty of heads up on new trends and deals, and be able to find catalogs for stores you love.
iPad users
Browse the Catalogs.com shopping app and find the latest in everything from Perry Ellis classic menswear and trends from Roxy clothing, to intimate apparel at Bare Necessities. 
In-store
A number of stores will drop their recent print pages in your shopping bag when they ring you up. Many stores often keep a stack out by the register or near the entrance. If they?re not busy most associates can sign you up to receive regular mailings right at the register. 
Inserts
Flip through the pages at a friend?s home and you?ll likely find a postage-paid insert about the size of a postcard. Carefully tear it out, fill it out and mail it in, and you?ll be added to the mailing list pronto.
Broaden your definition
A number of online stores, like Spiegel, don?t offer print because they include all of the information you need right on the website. You?ll even find sizing charts and customer reviews. For those favorite shops without print, give online shopping a whirl and soon you?ll find it?s not so different. 
Click through to the outfits you?re interested in and, on many sites, you can zoom in to see stitching. The quality of product photographs is so high you can see the texture of fabrics.
Remember, retailers want customers like you to have their catalogs. They try to make it as easy as possible for you to get them, but sometimes the quickest way to find catalogs you like is to call the store?s customer service. 
Popular Savings Offers