How to find out what?s new in scrapping
By Catalogs Editorial Staff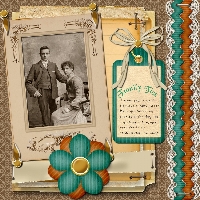 Great ways to find out what's new in scrapping for scrapbook fanatics
The internet has provided us with an abundance of information to make our lives easier, even our scrapbooking lives! If you want to find out what?s new in scrapping, just let your typing fingers lead the way. From magazine articles to helpful videos from scrapbooking professionals to the lady down the street who may sell something and likes to share her tips and tricks ? there are many places to learn what?s new. Here is just a sample.
Search Online
Do a search of ?scrapbooking? using one of the search engines. It will surely lead you to Daily Deals and Steals. This site and sites like it have excellent deals on new products every day. By searching for what these sites are selling, you will find out what?s new in scrapping so you can try it all on your pages.
Before you continue reading about the How to find out what?s new in scrapping there is a special announcement we would like to share with you. Catalogs.com has negotiated special medicare rates for our vibrant community of seniors. If you are over the age of 60, you can head over to our Seniors Health Section which is full of information about medicare. All you need is your zip code and a few minutes of your time to potentially save 100s of dollars on your medicare bills.
Check YouTube
YouTube.com is quickly becoming the biggest search engine thanks to its informative videos on just about everything including scrapbooking!

One of the more prolific video hosts is Tim Holtz at Ranger. He demonstrates everything from distressing papers using special inks to how to work in mixed media. Do a search of ?scrapbooking tutorials? and you will find out what?s new in scrapbooking and have a pleasant afternoon watching other people play with it all before you go out and get your own toys!
~

Join a group
There is something to be said for sitting with fellow scrapbookers and seeing what they are into at the moment. This is a great way to make new friends and learn new techniques first hand while getting some of your photos in your scrapbooks. Often the photos have a story because scrapbookers are notorious for wanting to share their ideas for the perfect layout. Take advantage of their experience and talent.
Find a demo
There are so many scrapbooking supply and stamping companies that are run by scrapbooking enthusiasts. The best part is that they will set up a party anywhere you want just for the chance to show you what?s new in their product line. Close to my Heart is one of my personal favorites. They are always looking for the next best thing and their product line is innovative and exciting. Do a search of ?scrapbooking consultants? to find a number of companies run by home-based demonstrators.
Social Media
With all of the social media options available today, it is virtually impossible not to find new products and techniques. Pinterest posts the photos of fellow scrapbookers? layout ideas, Facebook groups dedicated to scrapbooking talk about the latest news in the scrapbooking world, Twitter tweets about it and the information never stops. People are always looking for the latest and greatest and social media is one of the places to find out what?s new in scrapping.
So, if you want to get the latest and greatest ideas, tools and techniques coming from the world of scrapbooking, let your fingers do the walking across your keyboard to find it on the internet or do some actual walking to a demonstration or a scrapbooking meetup. Whichever way to do it, you can always find ways of adding pizazz to your layouts by following some of the tips listed here. And remember, you can always play and come up with your own new ways to scrap! Just don?t forget to blast it on social media or hit a meet-up to let the rest of us know what you did to get that fabulous layout!
Popular Savings Offers