Finding craft projects that travel well
By Catalogs Editorial Staff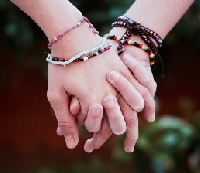 Getting there really is half the fun with these travel projects
Ah, the joys of traveling. Flights that take you to far away places with strange sounding names. Roadtrips that take you to national parks and other marvelous vacation destinations. Railroad or bus excursions that take you on tours of this great land of ours.
But what do you do while you?re getting to where you?re going? That?s supposed to be half the fun, but it isn?t if you?re bored and restless. And what do you do if it happens to rain while you?re there?
The answer to these questions is simple craft projects that are easily packed; can be done in tight places like plane seats and while strapped into a car seatbelt; require few, if any, tools to do; and are mess-free. Not only do they keep you and the kids occupied during long trips and in motel rooms when the weather turns bad, they also turn into special souvenirs that remind you of your wonderful trips.
Before you continue reading about the Finding craft projects that travel well there is a special announcement we would like to share with you. Catalogs.com has negotiated special medicare rates for our vibrant community of seniors. If you are over the age of 60, you can head over to our Seniors Health Section which is full of information about medicare. All you need is your zip code and a few minutes of your time to potentially save 100s of dollars on your medicare bills.
Kumihimo
If you?ve never tried this ancient Japanese art of braiding, it?s time you discovered it. Kumi himo is Japanese for ?gathered threads,? and that?s exactly what you use to create braids that can become necklaces, bracelets, belts, purse straps, even dog leashes and horse harnesses!
~
All you need to do kumihimo are a foam kumihimo disk (round or square loom), plastic bobbins, and cord. Some crafters also add end caps. The traditional medium is silk thread, but any kind of cord can be used, including satin beading cord, leather, and jewelry wire. Round kumihimo disks are commonly found in both 4 inch and 6 inch diameters and are used for making round braids with hollow center cores. Square kumihomo disks also are 6 inches on each side and are used to make a flat braid suitable for flat bracelets.
Numerous kumihimo patterns and tutorials are available online. The disk size makes no difference to the size or shape of the braid; its main functions are to:Maintain tension;
Maintain tension;
Keep the cords away from the point of braiding and prevent tangling; and
Supply a numbering system to help with more complex braid structures.
Crochet
Crocheting is one of the easiest crafts to do while traveling. All you need are some hooks, some yarn, and a yarn drum to keep everything together. However, planes, trains, automobiles, and campgrounds are no places to be doing large projects like afghans. Keep your projects simple, such as:
hats,
scarves,
cowls,
leg warmers,
socks,
pouches,
dishclothes,
potholders,
coasters, and
placemats.
The kinds and colors of yarns are almost endless and crochet patterns are available online, many of them for free.
Knitting
If you prefer knitting to crocheting, here again the yarn choices are unending. As to the knitting needles  themselves, some come in their own cases and some are even lighted at their tips so you can see what you're doing when your lighting is poor.
Finger Weaving
For a travel project that requires no tools whatsoever and older kids can do, too, try finger weaving. All you need are your fingers and some yarn. The basic procedure is a four-step process:
Slip the end of a ball of yarn between your thumb and index finger.
Loop the yarn around your index finger completely, and weave it toward your pinkie.
Make a full loop around your four fingers.
Slip the bottom (woven) row over the top (unwoven) row, from pinkie to index finger.
If you?ve never tried finger weaving before, or if you want to teach your kids how to do it, check out this
how-to web page
, complete with videos. Like kumihimo, finger weave braids can be used for a variety of things like key ring ropes, hair decorations, belts, or bag handles.
Kids? Projects
While it might not come under the heading of crafts per se, one of the best ways to keep kids occupied during long drives is to send them on roadtrip scavenger hunts. There are many free travel ones online to download and print and they come in a variety of themes, including city or country scenery, vehicles, and road signs. 
Older kids get a simple list of things to check off; younger kids get pictures instead of words. There also are free printable travel bingo ?cards.? If you want to make the scavenger hunts and bingo games specific to what you know your kids will see along the way to your particular destination, make up your own lists and cards ahead of time.
Popular Savings Offers