What is the first luxury watch you should buy
By Catalogs Editorial Staff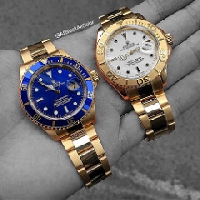 Learn a few tips on selecting the first luxury watch to buy
Choosing your first luxury watch is a personal thing. It can be a real status symbol for you to signify success. It depends on your particular needs, characteristics and lifestyle. So, what is the
first luxury watch
you should buy?
Maybe you are looking for your very first watch ever, or ready for one to add to your collection of timepieces. There are several factors to consider in choosing the first luxury watch that will make you proud. Features include style, size, model type, durability, cost, origin and more that will match your personality. Some questions you may ask yourself are:
Do you consider yourself to be playful or serious
Are you a straightforward and traditional person
Are you flamboyant or subtle, sophisticated or simple
The answers to these question may not always be forthright, but you need to determine which of these attributes are most prominent. The next step is to go through the various watch
elements and features
that suit you best. One of the main components is the face of the watch that includes the dial, hands, bezel and any other extras. Each element of the face contributes to the readability and look of the watch. You will need to consider the following:
Before you continue reading about the What is the first luxury watch you should buy there is a special announcement we would like to share with you. Catalogs.com has negotiated special medicare rates for our vibrant community of seniors. If you are over the age of 60, you can head over to our Seniors Health Section which is full of information about medicare. All you need is your zip code and a few minutes of your time to potentially save 100s of dollars on your medicare bills.
Hands ? it can be simple with hands only and no other design. The hands can also have dial markings with either no numbers or opt for Roman or Arabic numerals. The face of the watch may be monochromatic or have other color combinations. Some features include the option to see the time in dark areas.
The Bezel can be plain with no markings or have diverse types of designs, whether fancy or casual.
Extras can show date, time with seconds, time zones and other information, or you may prefer a face with hands and no extras.
Watch Function ? Your best luxury watch may be automatic, with self-winding features according to the movement of your wrist. Digital watches work on batteries. The Quartz watch is classified as the most accurate watch that also relies on batteries for functionality along with the gentle moving action of a quartz crystal for more exactness.
Multi-function capabilities ? The watch may double as a stopwatch, precision measuring gadget or other chronograph abilities beyond telling time in hours and minutes.
The Band – do you want a silver or gold bank or prefer a leather or fabric strap?
Dressy or casual ? Determine whether you are looking for a casual watch to wear on a daily basis, something more sporty or dressy for those special occasions. Examine your lifestyle to choose a watch that fits your needs. Maybe your choice will be multiple, where you look for a watch for daily wear and an exceptional timepiece when going out on the town. Sporty or casual watches tend to be larger in size than a classy dress watch. With that in mind, ensure you don?t select a timepiece that is wider than your wrist.
When choosing a luxury watch, pick a brand that utilizes its own movement. Some brands use the movement of various other companies such as ETA, a company owned by the Swatch Group. They make movements by numerous other watch companies. ETA movements are available in four quality levels, such as
EC, ST, EL or T-Top
. Watches with ETA movements are generally easy to repair because most watchmakers and repairmen are highly trained on ETA movements. Ascertain the quality of the watch you purchase or opt for a luxury brand of watch that manufactures their own in-house movement.
Some of the best name brand luxury watches to consider as your first special timepiece are:
The Swatch Company started in 1983, offering great fashionable watches. It is the largest watch company worldwide offering features like quartz and automatic chronograph movements. They also have timepieces with diamond accents. Swatch sponsors beach volleyball players, snowboarders, surfers, ski free riders and more.
Rolex is one of the most popular and well-known watch brand throughout the world. They do provide watches of superior quality, providing one of the first watches with a certified chronometer that is waterproof and dustproof as well as the first watch with an automatic date changer. They are high premium quality watches.
Cartier is a luxury watch with its headquarters in Paris. Cartier is a name you can trust for luxury, style, and class. Several celebrities and royalties choose the trusted name of Cartier.
Omega is a watchmaker based in Switzerland. Several celebrities like Michael Phelps George Clooney, Daniel Craig, and Cindy Crawford endorsed the Omega watch brand. Not only was it the official timepiece of the Olympic Games but also the first watch to make it to the moon when worn by Buzz Aldrin.
Baume et Mercier watchmaker was founded in 1830 with branches in 75 various countries worldwide. This stylish, luxury wristwatch boasts style and sophistications.
Patek Philippe has been producing watching since 1851 and is located in Geneva. The brand is known for complicated mechanical watches and high-end timepieces.
The list above shows just of a few of the many watch brands available to choose from when purchasing your first luxury watch. Another consideration for you may be the resale value since a watch depreciates by about 50 percent after purchase. Rolex tends to have the best resale value with consistent style. Other brands do have some resale value at a time when you are looking for a new timepiece to capture your heart.
When doing your research in choosing your first luxury watch, you may also want to consider a dealer network for service. Mechanical watches will over time require some servicing, so it is good to be knowledgeable on the brand, warranties and a manufacturer service center.
It takes a lot of thought and research in choosing your first luxury watch purchase. Knowing what to look for in a watch and some of the histories of each company can help you to make an educated decision in choosing the timepiece that complements your lifestyle.
Popular Savings Offers