Amazing Food and Gourmet Catalogs You Should Explore as Foodie
The world of catalogs opens possibilities for discovering new cuisines. Foodies can browse online stores or tempting mail-order food and gourmet catalogs. By doing so, they can learn about new tastes and ingredients for foodies. Whether you shop gourmet stores online, or flip through recipes and source your ingredients on the web, these food and gourmet catalogs would always be a lifesaver for the cook who can't find a particular item at local groceries. Lots of food and gourmet catalogs also offer foodie-tested recipes, kitchen tips, and articles about high-profile chefs and restaurants.
Below is a compilation of food and gourmet to help you out. These are the catalogs where you can find everything from baked goods to high-quality meats, cheese, and a whole lot more!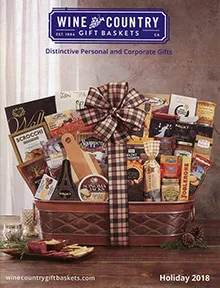 Firstly we have the Wine Country Gift Baskets. This catalog brings you awesome gourmet gift baskets of different assortments. this includes wine, chocolate, and gourmet food lovers – featured at Catalogs.com. Choose from their selection of premiere white wines or bold reds, and a tantalizing selection of gift baskets. There are also handsome gift towers that combine wines with carefully sourced savory and sweet food items that are available. This is definitely one of the best food and gourmet catalogs you should check out for mouth-watering goodies.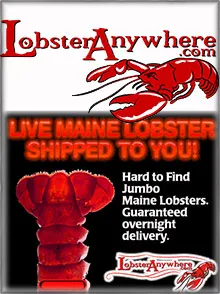 If you don't live where you can purchase fresh seafood, don't despair. When you order online from Lobster Anywhere, you will get the freshest seafood available, delivered right to your door. Whether you're preparing grilled lobster, broiled or baked, enjoy uncooked or cooked lobster, small lobsters, or the largest lobsters jumbo-sized and weighing in at three lbs, this food and gourmet catalog got your back! From the ocean to your door overnight — that's Lobster Anywhere – featured at Catalogs.com.
Before you continue reading about the Amazing Food and Gourmet Catalogs You Should Explore as Foodie there is a special announcement we would like to share with you. Catalogs.com has negotiated special medicare rates for our vibrant community of seniors. If you are over the age of 60, you can head over to our Seniors Health Section which is full of information about medicare. All you need is your zip code and a few minutes of your time to potentially save 100s of dollars on your medicare bills.
Medjool dates, dried fruit, and nuts gifts, local food, wine, and more Whether you want farm direct date fruit, dried fruit and nut gift baskets, or a locally made food and wine gift, delicious flavors await with the Sphinx Date Co. Palm & Pantry Gift Catalog and coupon code. From the elegance of stuffed Medjool dates to pure Arizona honey to the spice of a Southwestern salsa, you'll enjoy the many tastes of family-owned Sphinx Date Co Palm & Pantry. Located in Scottsdale, Arizona since 1951. – Featured at Catalogs.com.
Sphinx has the best-dried fruit and nuts in the market which are presented in a variety of gift tins, trays, and boxes. Choose great gifts for foodies here, too, with rich chocolate-dipped dates, dates stuffed with pecans or walnuts, and a variety of presentations for the holidays, hostess gifts, or any food occasion.
Filet Mignon. Ribeyes. Kansas City Strip Steaks. Top Sirloin. T-Bone steaks. Porterhouse. Tenderloin. Steakburger. Do we have your attention yet? What comes off the grill is only as good as what goes ON the grill, and the steak combinations in this foodie catalog are only the very finest mid-western beef cuts you can get online! Add some of the seasonings and marinades to your order, and you've got a dinner fit for a special date night, or your high-end outdoor barbeque.
Whether you're preparing for a delicious steak dinner for four or ordering gourmet steaks to give as gifts, The Kansas City Steak Company has been making mouths water since 1932, delivering the Kansas City steaks that have made them famous, right to your doorstep – featured at Catalogs.com.
If you are looking for the best food and gourmet gifts, Harry & David is just perfect for your needs. Harry & David has grown to become America's premier choice for gourmet gifts. From their handpicked fresh fruit to their hand-packed gift baskets filled with delicious treats, they are committed to providing premium quality and excellence in every way. Grab a free catalog to browse some great gifts for this season.
Do you ever want to try a pure taste of Florida? Hale Groves will definitely do it for you. Through this mail-order free food and gourmet catalog, you can order seasonally fresh produce for snacking, juicing, or baking, and even for gifting. Hale Groves offers selected wholesome fruit boxes and baskets at sale pricing on a limited basis.
You can place a one-time order for every kind of fruit from Honeybells, navel oranges, apples, and pears to strawberries, peaches, and cherries, or join a fruit-of-the-month club and revel in a delectable delivery every month. Hales Groves also has gourmet honey, marmalades, and chocolate-covered fruit. This catalog is also full of the perfect gift to send from a foodie to a foodie.
Chicagoans know Eli's as the cheesecake company. And they know that you don't need to bake it when you have Eli's catalog at the ready, with all of their delicious varieties, from fruit-topped cheesecake to fancy flavors like turtle and caramel. You can end every one of your carefully crafted meals with a carefully crafted cheesecake from Eli's… and then buy another one to share.
Eli's Cheesecake catalog offers the most delicious desserts on the planet, handmade in their famous Chicago bakery – and delivered right to your door. Choose from a wide variety or create your own custom, mouth-watering cheesecake with your choice of topping, candies, and a custom message hand-written on a chocolate plaque. Gift certificates also available, the perfect gift for any occasion. – featured at Catalogs.com.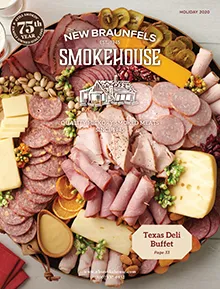 Since 1945, New Braunfels Smokehouse has been preparing Texas hickory-smoked meats for over 70 years:
Browsing through their catalog will give you will be able to find the widest selection of Texas tastes of real smoked bacon, the finest sausages, smoked turkey, and beef jerky online, order your smoked meats and barbecue from the leader in hickory-smoked meats. From corporate holiday gifts to football tailgating treats, let them send the tastes of Texas to you – at Catalogs.com.
Home Bistro lets you order meals online, customized to your unique healthy eating plan or dietary needs for gourmet food delivery. All are chef-prepared and ready to heat and eat. All of the sumptuous meals are freshly prepared by amazing professionals to ensure that all customers would be satisfied and feel worth-it with the price.
Order their free catalog today and browse their best seller meals, meal combos, individual meals and dietary preference menus that you will surely love. They also have amazing gift certificates to give to a special someone or a foodie like you.
1. Waterwise Purification Systems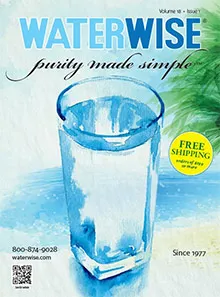 We'll just leave this right here. Water. It's not only for drinking, it's often the foundation of your culinary ventures. My grandmother, who was one of the best home cooks I've ever known, only cooked with well water that my grandfather drove miles to fetch for her. You should have the purest, most bright-tasting water you can, available from your own kitchen tap.
Popular Savings Offers
Waterwise featured at Catalogs.com. Enjoy clean water with a drinking water purifier that combines water distillers with carbon filters for exceptionally pure water. Plus, keep your home fresh with a filterless air purifier.

by Catalogs.com Info Guru Samantha Rose