How to get food from famous restaurants
By Catalogs Editorial Staff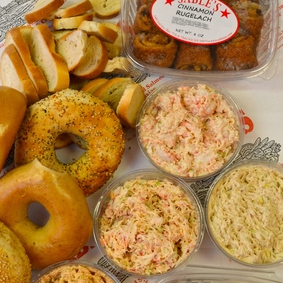 Food from famous restaurants is a click away
Food shows continuously feature close-ups of chef concoctions made with exotic ingredients that have viewers licking their lips. Then some fancy food critic bites into the dish, describing it as if adjectives are a substitute for a mouthful of gourmet wonderment. You?re not alone if you can?t help but feel you?re missing out.
Gone are the days when a plucky foodie could sneak in a restaurant?s backdoor and nag the cook for some grub, if they ever could. On one hand, getting food from famous restaurants has never been easier because these businesses are spread across the country. On the other, high prices, distance and time can still be prohibitive. 
How do you get your hands on some authentic regional BBQ or Buffalo?s famous wings when you live ten states away? There are a few ways to approach this most important challenge. 

Note that ?famous? doesn?t necessarily equal high end. Many well known food establishments earned their reputations one juicy cheese steak at a time!
Before you continue reading about the How to get food from famous restaurants there is a special announcement we would like to share with you. Catalogs.com has negotiated special medicare rates for our vibrant community of seniors. If you are over the age of 60, you can head over to our Seniors Health Section which is full of information about medicare. All you need is your zip code and a few minutes of your time to potentially save 100s of dollars on your medicare bills.
~
Order from afar
Good news: Restaurants are in the business of selling their culinary creations. Therefore, many want their food to be accessible to curious tasters who happen to be far away. Online foodie stores exist to connect restaurants to aspiring customers, it's basic supply and demand.
Years ago, the notion of ordering a meal on the internet and having it shipped would?ve sounded risky at best. Now shippers have mastered the art of packing even the most delicate dishes in coolers so they arrive if prime condition. All you need to do is a little a reheat and the food is ready to be enjoyed.
Getting food from famous restaurants online is simple. While not every business does mail order, the ones who do often offer the whole sha-bang complete with their special sauce, sides and desserts like fruit pies and decadent chocolate cakes. This Forbes article points foodies in the right direction.
Copy their recipes
It?s not surprising that many well known restaurants in big cities choose to keep their most sought out recipes a secret. Fortunately sites like Copykat Recipes and The Food Network offer near identical versions of everything from the Famous Bloomin? Onion at Outback Steakhouse or the lettuce wraps at P.F. Changs.
Learning to make these tantalizing dishes yourself means you can have them anytime you want. It?s also faster than ordering and waiting a day or two for the shipment to arrive. While cooking the dish yourself is certainly more work than relaxing in a nice restaurant while the meal is prepared for you, you?ll be cooking and dining from the comfort of your own home minus the check at the end of the night.
Another advantage of making iconic dishes is that you get to make them your own. Reduce the salt and cheese to make it healthy. Increase the pepper because, hey, you things a little spicy. 
Save up and go
If you want satisfaction guaranteed, and who doesn?t, consider saving up and actually going to the place that makes the dish you?re craving. Traveling is always fun, but traveling with a mission is a thrill – even if that mission is to have the best deep dish pizza Chicago has to offer.
Make reservations ahead of time! It doesn?t matter how far out the trip falls on the calendar, marking this date will give you something fun to look forward to. In the mean time, check local discount sites like Groupon and Living Social to see if your place of choice offers a discount in the near future.
Food from famous restaurants is a treat everyone enjoys from time to time. No matter where you live, if a specific dish is haunting you it?s time to indulge a bit.
Popular Savings Offers