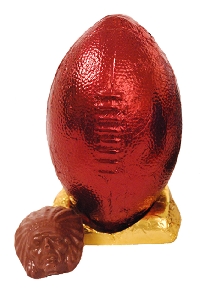 Here are some helpful football gift ideas
Football gift ideas aren't always easy to come by. This is at least partially due to the fact most followers of the sport already have the football-related things they love best. Still, there is reason to hope and persevere in order to find the ideal gift for your favorite football fan that is suitable for any special occasion.
Many people just don't get football, but for many others, the love of this sport almost equals that of friends and family. The football gift ideas presented below offer some new possibilities for NFL-related gifts that are sure to evoke a smile upon the lips of that special football fan in your life.

What are some interesting football gift ideas?
1- Football universal remote control
This is the perfect football gift for an "armchair quarterback."  This four-in-one remote control can monitor TV, cable, VCR and satellite feed, and the selection buttons and numbered keys are very easy to use. The remote requires two AA batteries, which are sold separately and although there is no manual, an instruction sheet is included.
2- NFL vibrating football game
Magnetic players are moved up and down the gridiron via internal vibrating motors. Unlike the classic version of tabletop football and updated with the cool hand of modern technology, in this game each player enjoys an independent vibration control, which aids in confusing the opponent and making the big play. This makes the game much more competitive and exciting.
3- Wireless football scoreboard
Modern technology, via a wireless signal that offers updates every 15 minutes, allows the football fan in your life to keep track of every team, every game and every quarter. The scoreboard is one of the best football gift ideas because it covers everything; the regular season, playoffs and championships — pre-season as well. The built-in, self-setting clock displays the time accurately and the scoreboard is the perfect size to accommodate any shelf, bedside table or desk.
4- NFL team jerseys
If you still can't decide on the perfect football gift, consider a NFL team jersey. Even if the football fan has one, another only adds to the joy. Just make sure the team you pick is among the football fan's favorites or this will not turn out to be one of the best football gift ideas.
5- Official NFL team autographed photo
This certainly ranks among the coolest football gift ideas for any NFL fan. If the team photos are too costly for your pocket book, consider buying an autographed photo of one of the team's individual players. Football fans love autographed footballs, jerseys, pictures, and even trading cards.
~
6-Tickets to an up and coming game
Watching a favorite team in action is the supreme experience of any football fan, and while tickets are not that expensive they are often hard to get unless you buy them far in advance.
For the NFL football fan, the most wonderful period of the year is football season. Football gift ideas run rampant at this time, and remember that anything that will increase enjoyment of the season for your favorite football fan makes for a great gift.
Happy football gift ideas!