Fourth of July party ideas
By Catalogs Editorial Staff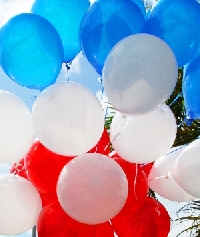 Use varying, creative ideas to make your holiday party fun and exciting
Summer celebrations wouldn?t be the same without having the huge party celebration that most people have on Independence Day, or as most people know as the Fourth of July. The hot summer holiday is a fun time of partying, water fun, food, and all celebrated with friends and family.
When planning the big Fourth of July party, ideas should include activities that everyone can participate in and be a part of as the celebration goes on.
Your Fourth of July party ideas should consist mainly of outdoor activities, if at all possible. Since the holiday conjures up thoughts of firecrackers and pool fun and games, it would be easier and more convenient to host your party outdoors.
Before you continue reading about the Fourth of July party ideas there is a special announcement we would like to share with you. Catalogs.com has negotiated special medicare rates for our vibrant community of seniors. If you are over the age of 60, you can head over to our Seniors Health Section which is full of information about medicare. All you need is your zip code and a few minutes of your time to potentially save 100s of dollars on your medicare bills.
~
Early Fireworks
No Fourth of July party would be complete without fireworks! To make things exciting for your party and to really make it fun, start and end the party with a fireworks show. The guests of course may expect fireworks at the end of the party, but not at the beginning. Have all of your fireworks already assembled and ready for when the guests arrive. You can either start it while they?re arriving or assemble them all shortly after they arrive so that they may view the show.
For your little guests (the kids), have several games and crafts in store for them to do and to keep them busy. Most Fourth of July party ideas for children are relatively easy to do and can add to the party?s ambience. For instance:
Homemade placemats. Have the children make and decorate their own placemats for their holiday lunch or dinner. If there are enough children with reasonable skills, have them also create a placemat for the adults at the party. Too many adults? Then just have them made for all of the senior citizen guests or just the dads. To make the placemats, you will need scotch tape and sheets of red, white and blue construction paper.
Next, have them cut the paper pieces into identical sized strips. Starting with the paper strips, secure them on one side with the tape on the underside. Begin weaving the paper strips in and out of each other, creating a color pattern. At the end of the weave mat, secure the underside again with tape. Flip the mat over and you have a colorful Fourth of July placemat for your party.
Other Fourth of July party ideas that most everyone will enjoy is hitting pi?atas and three-legged sack races. These games are traditional, but here?s a twist on them both:
* For the pi?ata, instead of using the ones where candy falls out when you hit it, use human pi?atas instead. Fill balloons with water and play rolling dodge balloon ball (safer than hitting someone directly with a water-filled balloon). Let the game continue until there are only two players remaining. When one of them is hit and there is only one player remaining, declare the winner and reward them with the candy-filled pi?ata that you were going to use!
* Three-legged sack races are where Fourth of July party ideas got their start. For a new twist on an old game, instead of a three-legged race, have a seated sack race instead. Divide the party guests into two teams and have each team choose a leader. On a flat, level spot of land, each team will pull their leader on the seated sack towards the finish line. This game is so much fun that you may end up trying the best of three or the best of five before you declare a winner.
Other Fourth of July party ideas that you can use to entertain your holiday guests include:
– A dance contest, first with singles and then with couples. You can also play musical chairs using music from as far back as you?d like to go. Everyone enjoys playing games and being silly, and this is a great time for guests to show their skills and have fun doing it.
– Name that person, place or thing. Kind of like holiday trivia because a designated game host will read a description about a current person or an event or item in our history, and the audience must name what it is. To stay on the theme of the holiday, the game information must relate to the Fourth of July holiday and must be relevant.
The Fourth of July is a fun time for parties and get-togethers and using a few of these ideas will surely have your party headed in the right direction.
Popular Savings Offers