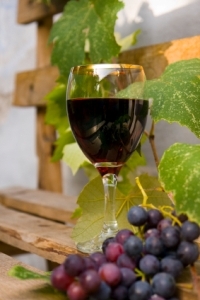 A great French wine can make for a delicious dinner companion.
The French have long been known for their world-class wines. Much of France is devoted to the art of wine making. Names such as Bordeaux and Chardonnay are synonymous with good taste and high quality. Here is a guide to the regions in France and the wines they create to help you choose the right French wine for any occasion.
Regions and Grape Types
Alsace ? located on the Eastern border of France, this famous wine region produces a large variety of wine, 90 percent of which is white. Alsace is well known for its Rieslings, Pinot Blanc and Gewrztraminer wines.
Bordeaux ? the largest wine region in France, Bordeaux (Bordelais) accounts for just under half of the country's wine production. The vineyards around Bordeaux cover 550,000 acres with approximately 500 wine brokers in the region.
Burgundy ? a province in eastern France, Burgundy (Bourgogne) is famous for its production of delicious red and white wines produced mostly from Pinot Noir and Chardonnay grapes.
 
Touraine ? this region boasts Cabernet, Chenin Blanc and Sauvignon grapes as well as a host of others.
Montrachet ? this region boasts some of the world's finest white wines.

Chablis ? the Chablis region of France is the northernmost area of Burgundy. The vines in this area are almost all Chardonnay.
Loire Valley ? in the valley of the Loire River ? the longest river in France ? is the wine region of Loire, which boasts some of the finest white wines in the country. Chenin Blanc and Sauvignon Blanc are two of the famous grapes grown here.
~
Varieties of Wine
Chablis ? this fine white wine is very dry and has a crisp flavor with a refreshing acidity. Pair it with seafood, such as salmon. As with all fine white Burgundys, Chablis is made from Chardonnay grapes.
Montrachet ? sometimes called the best white wine in the world, Montrachet (often called le Montrachet) is amongst the most expensive white wines available and is best enjoyed with fish and other white meats. The less famous red version is made from Pinot Noir grapes.
Pinot Blanc ? a refreshing, clear, dry white wine that compliments foods such as Onion tarts and light cheeses. Pinot Blanc is so much like Chardonnay that vineyards often grow the two grapes intermingling with one another.
Champagne ? a blended wine, usually recognized by its producer. The French are famous for their champagnes, especially Dom Perignon and Cristal. When it comes to sparkling wine, nothing rivals French champagne.
Chardonnay ? dry, white wine known for its pure taste and aroma, Chardonnay is best enjoyed with seafood, grilled salmon, poultry and other white meats. Delicate and light, Chardonnay is one of the most widely enjoyed French wines.
Sauvignon Blanc ? crisp and fresh with a concentrated bouquet. When chilled, this distinctive wine goes well with fish and cheese and is one of the few whites that blends well with sushi.
Pinot Gris ? a sharp white wine that can stand up to food without interrupting flavors, Pinot Gris is one of the most enjoyed French wines. Depending upon the ripeness of the grapes, Pinot Gris (also known as Pinot Grigio in Italy) can be light and fruity or rich and full bodied.
Gewurztraminer ? a fruity white wine with aromatic flavors, Gewurztraminer is one of the few wines that pairs well with Asian food. It also goes well with soft cheeses and oily game such as duck and smoked salmon.
Riesling ? the most famous white wine from the Alsace region, the acidity of Riesling adds to its sweetness. Famous for aging well, Riesling is best enjoyed with fish or pork and goes well with Thai and Chinese cuisine.
Cremant d'Alsace ? a combination of Pinot Blanc, Pinot Gris or Pinot Noir that has a fresh, fruity flavor.
Bordeaux ? well known for its full-bodied red, Bordeaux also comes in a white and rose variety. Red Bordeaux is made from a blend of grapes including Cabernet Sauvignon, Merlot and Cabernet Franc and goes well with beef, lamb and poultry such as grilled chicken. White Bordeaux is made primarily from Sauvignon Blanc and Semillon grapes. A dry white Bordeaux goes well with seafood and chicken, while a sweet white Bordeaux compliments most desserts.
Merlot ? Merlot grapes ripen early and provide a spicy, fruity aroma. Merlot grapes are the most widely planted grape variety in the Bordeaux region of France. The wine made from Merlot grapes is full bodied and silky and is best enjoyed with strong food flavors such as cheeses and red meats.
Cabernet Sauvignon ? this wine is known for its ability to age well and for its big, bold flavor. Cabernet Sauvignon grapes are amongst the most widely planted in the world and the wine they produce is generally full-flavored with a smooth finish and a stronger flavor than Merlot. This wine goes well with red meats, red-sauced pastas and strong flavored cheeses.
French wines make for delicious dinner companions. Try one today!