Planting for fruit trees for your kitchen garden
By Catalogs Editorial Staff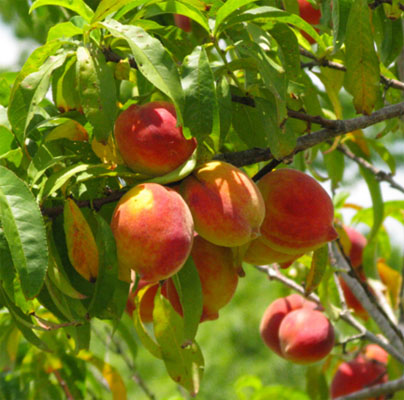 Easy-to-grow fruit trees for kitchen garden
Many people are pleasantly surprised to learn they don?t need a big yard to grow fruit trees. In fact, they make a tasty, beautiful and logical addition to a kitchen garden. Best of all, many varieties are easy to grow.
Picking a sun ripened fruit from a branch and biting in is one of life?s sweetest natural luxuries. The taste is that much sweeter when you're reaping the rewards of your own efforts, having watered its roots and chased birds from gobbling up the first harvest. 
Plant your first fruit trees this fall and by spring and summer you?ll be filling a basket with vibrant red cherries, leaning over to keep the peach juice from dripping on your shirt and adding handfuls of blueberries to everything. If you love snacking on an apple in the middle of the day or an apricot for dessert, you?ll love growing them even more.
Before you continue reading about the Planting for fruit trees for your kitchen garden there is a special announcement we would like to share with you. Catalogs.com has negotiated special medicare rates for our vibrant community of seniors. If you are over the age of 60, you can head over to our Seniors Health Section which is full of information about medicare. All you need is your zip code and a few minutes of your time to potentially save 100s of dollars on your medicare bills.
There?s a wide range of fruit trees for kitchen garden to choose from. If this is a new venture in your gardening life, consider adding a few of the following low-maintenance ones that are easy to care for.
Plums
Hardy and versatile, plums require far less water than many other types. They?re also more disease resistant and produce a manageable abundance for harvesting. To help them thrive, you?ll need to learn how to prune and properly fertilize.
~
These fruit trees for kitchen garden grow with ease. Keep your running shoes handy though as birds love them, too.
Apples
Crisp and juicy, apples retain their flavor for quite a while. Enjoy some fresh off the branch, add them to lunches, bake with them and cook with them. Plan to harvest from midsummer through the fall. 
There are many apple varieties to choose from. Gala and Golden Delicious are popular with beginners as their upkeep is minimal and prove to be relatively disease resistant.
Peaches
The taste of summer is a ripe peach plucked and eaten while it?s still warm from the sun. Many varieties can be harvested from the beginning of summer into early fall. This is a higher maintenance one, but the necessary tasks aren?t complicated ? pruning, thinning, watering and protecting them from diseases and pests. Hungry squirrels will be your biggest challenge/ annoyance.
As you harvest for the day?s meals and snacks, peaches will inspire a number of dishes and desserts. Can some for the winter and use the rest in everything from lemonade, salsa and simple peach chutney, to ice cream and muffins. You can even halve and grill them to go with barbecue. 
Apricots
Aesthetically pleasing and delicate in flavor, apricots are always a wise choice. Their full, lovely shapes make a nice addition to any landscape and many of the branches are low enough to reach from the ground. 
These flower in early spring, so if the frost returns or season turns too rainy, you may not get much if any fruit. When they do flower, the pink aromatic blossoms are a stunning sight to welcome the growing season. Be prepared to harvest and enjoy the fruit as soon as it?s ripe.
Citrus
One huge advantage of living in a warmer region is the ability to grow fuss-free citrus year-round! These evergreens offer intense beautiful, aromatic blossoms, and there?s no rush in harvesting as they retain flavor. They?re drought resistant, need minimal pruning and fun to shape, not to mention mostly free of pests and diseases.
These are just a few of the many fruit trees for kitchen garden. It?s never too soon to start thinking about what to plant and prepare your soil. Remember to consider your space and growing conditions as many of these need 6-8 hours of sunlight to thrive.
Popular Savings Offers