How to get comfortable breastfeeding a newborn
By Catalogs Editorial Staff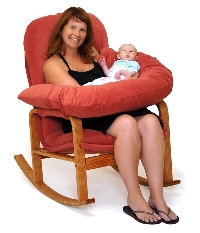 Here are a few tips and tricks for breastfeeding comfort
Getting comfortable breastfeeding a newborn can be a challenge. This little ball of love is squirmy, warm (especially an issue for babies born in the spring and summer), and impatient. Plus, it seems like they are
always
latched, so how do you sit in the same position
forever
without developing muscle cramps?
Never fear, mother, your guide to breastfeeding comfort is here. 
First, Relax
Before you continue reading about the How to get comfortable breastfeeding a newborn there is a special announcement we would like to share with you. Catalogs.com has negotiated special medicare rates for our vibrant community of seniors. If you are over the age of 60, you can head over to our Seniors Health Section which is full of information about medicare. All you need is your zip code and a few minutes of your time to potentially save 100s of dollars on your medicare bills.
It may seem counterintuitive to tell you to relax before you?ve figured out how to be comfortable, but this is the first most crucial step to breastfeeding, period. Everything comes much more smoothly when you aren?t frustrated and panicking. Your baby picks up on your moods, can sense when you tense up, and is likely to have trouble latching or reject the nipple if she senses your discomfort. So, when you feel yourself losing patience, take a deep breath, and let it go. If you are calm, there is a much better chance of getting your baby to go along with trying different positions, or trying to latch one more time. This is going to be okay. If you know it, your baby will know it. 
Support for Mom
Chances are, you will find yourself breastfeeding in all sorts of places, but whether you?re in bed or seated in a chair, there are a few things to keep in mind. 
First, lumbar (lower back) support. If you?re looking for a good rocking chair with contoured cushions to add to the nursery, find one that has good back support and arms that aren?t uncomfortably high. When seated in bed, especially those few days to weeks after delivery, make sure you have enough pillows to sit up against at feeding time. 
You may also want to prop up your feet, which can be accomplished with a good foot stool, extra pillows, or some other type of cushion to support your legs.
~
Another consideration is to make sure you have some sort of end table close at hand to set a glass of water, a book, your cell phone, or the TV remote. Hydration is so important in keeping up your milk supply, and, let?s face it, you?re going to be doing this A LOT; you might as well get caught up on your reading and TV shows while you?re at it. You don?t want to sit down to feed your fussy little guy just to realize you forgot your drink and you can?t reach the novel you just laid down somewhere, and now you?re ?stuck.? Better to grab everything you need before settling in. 
Support for Baby
While baby is small, you may find a nursing pillow (shaped like a big donut with an open end so that it fits around your midsection) to be an invaluable aid in supporting baby?s body and getting into a comfortable position. If you don?t have one, laying regular pillows across your belly and under your arm for support can help immensely. 
There are several different breastfeeding positions or ?holds? you can try, and some you may use interchangeably, or shift from one you love when baby is tiny to a different position as your little nugget grows. The cradle hold is the classic ?baby cradled in the crook of your arm? position, where her head is supported in the crook of your elbow and her body lies against the length of your arm. This works well when she?s tiny and if you?ve had a typical vaginal birth. The cross-cradle or crossover hold is similar to the cradle, but you support baby?s head with the opposite hand, which may help if baby is having trouble getting a good latch. 
The football hold is a great position for anyone, but especially for c-section moms and moms of twins. In this position, you hold baby under your arm like a football, support his back with your arm, and cradle his head in your hand to guide toward the nipple. This works best with a nursing pillow around you or a regular pillow under the arm of the side on which you are feeding. 
The reclining or side-lying position is good for middle of the night feedings and those recovering from a difficult delivery or surgery. In this position, you are literally lying on your side, with baby turned towards you to nuzzle close to the breast. If he needs to be higher to reach the nipple, you can use a small pillow or receiving blanket folded up under his head to prop him to the desired height. You should have a pillow under your head and shoulders and another between your knees to keep your spine aligned. 
It is likely you will try any and all of these positions and more as you go through your breastfeeding journey. Find what works best for you and your little one, and you will be well on your way to a long and happy breastfeeding relationship. 
Popular Savings Offers