What kind of gift do you give for a christening?
By Catalogs Editorial Staff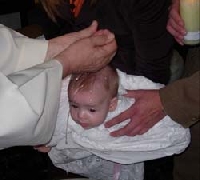 Modern or Traditional – What's your christening gift style?
A christening, also known as a baptism is a ceremony where an infant receives their Christian name and is officially made part of the church?s faith. This important religious event typically takes place in a church, is performed by a priest or pastor and is attended by close friends and family.
Since it is such a great honor to be a guest at this ceremony, many people like to bring gifts for the child. There are many options for this gift and we?ve listed a few ideas for you.
Go Traditional
Before you continue reading about the What kind of gift do you give for a christening? there is a special announcement we would like to share with you. Catalogs.com has negotiated special medicare rates for our vibrant community of seniors. If you are over the age of 60, you can head over to our Seniors Health Section which is full of information about medicare. All you need is your zip code and a few minutes of your time to potentially save 100s of dollars on your medicare bills.
Traditional gifts are a great option for families with strong religious backgrounds or if you just enjoy celebrating today with something from yesterday. Ideas include bibles and prayer books a child can read throughout life or a rosary to help with prayer. Gifts made of silver are very traditional and can be cherished for years to come.
Have you ever heard the expression ?born with a silver spoon in their mouth?? In the early 15th century it was tradition to give a newly christened baby a sliver spoon with the handle representing an apostle. This saint would then become the child?s patron saint. The newer tradition of giving a silver cup and spoon is thought to bring prosperity to the child as they grow up. 
~
In the southern United States, the silver pattern selected for a newly christened girl?s gift becomes part of her ?hope chest? for when she is married. As she gets older, she is given more pieces with the same pattern. The hope is that by the time she is married, she will have a full set of silver. 
Go Modern
Today, there are many options outside the traditional silver that are perfect for giving as a gift for a christening. Let your imagination go to work and get your creative juices flowing. Here are a few ideas to help get you started:
Monogrammed blanket. Thick and fluffy or lightweight, this blanket is destined to become a favorite. 

 
Keepsake box with the christening date and picture. Whether you choose square or in a special shape, this box is perfect for those trinkets and treasures that children save.

 
Set of special books with a personal note from you. Think along the lines of the Beatrix Potter collection, Paddington Bear or Winnie the Pooh, just to name a few. If you?re unsure, consider the books you loved most as a child and share your memories when the child is older.

 
A musical snow globe with a religious theme engraved with the date. Many manufacturers sell these online and at religious stores. The music tends to be lullabies or classical pieces.

 
A pearl baby bracelet with a cross. Baby bracelets are beautiful, delicate items that are treasured by the parents at first and by the child as they get older.

 
Stuffed animal with a personalized shirt and/or blanket. These are fun gifts that the baby can enjoy from a very young age. There are online options or stores that let you build your own animal for an additional personal touch. 

Hand stitched psalm and dedication. If you or someone you know is crafty, this might be the option for you. Choose your favorite psalm or Bible passage for stitching. Once it?s complete, frame it and you?re good to go.

 
Christmas tree ornament with engraved details. This is especially nice if the baby is born close to the holiday.

 
Give Time
Another idea is the gift of time. Children feel special when adults spend time with them ? going to the park or hanging out and playing games. It may seem simple, but these are the memories that last forever.
If the child has a face and memories to associate with the keepsakes, those items will have even more value to them. More than likely, they will be saved well into adulthood and passed on to future generations. You and the christened child just created the next generation of tradition!
Popular Savings Offers