Gift ideas for soldiers
By Catalogs Editorial Staff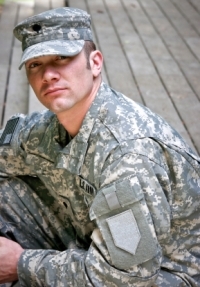 Brighten a soldier's day.
Want to send some gifts to some soldiers?or any special loved one in the military? Consider first where they are stationed. Those serving their country in the desert regions of the Middle East face temperatures that often climb above 100 degrees Fahrenheit. On the other hand, service personnel stationed in Alaska might prefer portable hand warmers and packets of hot chocolate mix.
Before you continue reading about the Gift ideas for soldiers there is a special announcement we would like to share with you. Catalogs.com has negotiated special medicare rates for our vibrant community of seniors. If you are over the age of 60, you can head over to our Seniors Health Section which is full of information about medicare. All you need is your zip code and a few minutes of your time to potentially save 100s of dollars on your medicare bills.
Edible Delights
Nonperishable edibles and snacks are welcome anywhere in the world. Bags of individually wrapped peppermints, hard candies and butterscotch candies are sure to make soldiers smile. Trail mix comprised of nuts and dried fruits is a well preserved treat. Small tins of breath mints are diminutive delights. Add some chewing gum, jelly beans, beef jerky in plastic shrink-wrap packaging and packets of flavored drink mixes. Those kinds of products stand up well to long rides in airplanes, boats and military vehicles.
Leisure Time
A little imagination goes a long way in conjuring up great gift ideas for soldiers. What do they do in their leisure time? What are the weather conditions? Do they have access to computers? Video games, playing cards and disposable cameras will make their free time more enjoyable. And soldiers are sure to treasure travel-size toiletries?mouthwash, shampoo, deodorants, toothpaste and sunscreen. Keep all factory-applied seals intact to avoid any suspicion of tampering when inspectors scrutinize the contents of your package.
About Batteries
Some of the best gift ideas for soldiers relate to convenience and economy. Prepaid international phone cards are coveted by personnel in all branches of the military. Battery operated devices?radios, compact disc players and digital cameras?are valued for their portability but require some caution on the part of the sender; always wrap the batteries separately and secure them with tape to the outside of the device. Do not insert the batteries into the device before shipping the package, for the device might accidentally be activated during transport. If the batteries are rechargeable, make sure to include an appropriate battery charger.
Packaging Advice
Always ship a collection of gifts in a box that can withstand jostling and hard travel.
Do not tie boxes with string.
Do not wrap a box in paper.
Do not use masking tape or duct tape; use good quality sealing tape or packing tape.
A clearly written, up-to-date address and a return address should be inked in the proper place on the package. Use a marker pen whose ink is permanent.
Overlay the written information with clear packing tape; the tape will prevent blurring from rain damage or melting snow.
Some valuable guidelines relating to addressing packages and preparing them for their long-distance journeys are offered by the United States Post Office (USPS).
 ~
Extra Precautions
An added measure of protection comes with using two boxes. Put the box containing the gifts into a second, larger box and add ample padding in the all spaces between the pair. Cushioning materials such as bubble wrap, wads of newspaper and plastic bags filled with Styrofoam peanuts provide added security against breakage or damage during shipping. Make sure to address the inner box, as well as the outer, protective box.
Prohibited Practice
Keep in mind that no one is permitted to address a package to, 'Any Soldier' or 'Any Service Member' or 'Any Sailor,' etc. That nostalgic and congenial method has been widely used for generations during wartime as a way of reaching out to an anonymous serviceman or servicewoman. The practice was prohibited after the terrorist attacks of 2001. Any such mailings now are returned to the sender. If the sender's name and address are missing or illegible, the USPS donates the contents to local charities. Find out more interesting facts and get some answers online to frequently asked questions about supporting our troops.
Sponsor a Package
Gift ideas for soldiers may quickly proliferate once you start thinking about the subject. But what if you don't know anyone in the military? How can you support the troops if you don't know any of them? In that case, let the United Service Organization (USO) choose the recipients of your gifts. The USO is a civilian-operated, nonprofit charitable corporation with some 130 centers around the world. It's catered to the morale, welfare and recreational needs of U.S. troops across the globe since its founding in 1941.
Popular Savings Offers