When you buy something using the retail links in our posts, we may earn a small commission. Catalogs.com does not accept money for editorial reviews. Read more about our policy
here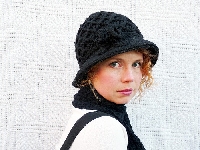 Hairstyles and hats are an obvious pair
Hats have been around for centuries. Hairstyles for hats can range from pigtails sticking out from under the hat, braids and curls, or even messily piling hair under the hat to get it out of the way.
Getting hair out of the way lets the hat do all the work framing the face and keeping the messiness hidden safely away. Don't let your hair compete with your hat by carefully considering the hairstyles, hair extensions, and hair accessories that work with hats before adding that beret to your ensemble.
Originally used to protect the head from the elements or from dangerous items such as falling rocks, hats eventually became a statement of fashion, especially in Great Britain. Around the 1700s, milliners, or people who make hats, became fashionable and hats became the ultimate fashion statement. In fact, adorning the head with a beautiful hat is a long-held tradition in African American churches where hats are almost like crowns, especially on high holy days such as Easter and Christmas.
Reasons women wear hats

While pairing womens church suits and hats is commonplace, more and more women are wearing hats with casual outfits, business suits and fun weekend looks. Using hats to cover uncolored roots or simply when having a bad hair day is another easy excuse for adding this stylish element to your wardrobe.
Stylists to the stars even provide customized hairstyles for hats for some of their wealthier clientele. Stars such as Jennifer Anniston and Jessica Simpson regularly don fedoras or ball caps when traveling or heading to the beach for the day. Arming yourself with a plan and good blow dryer will make your hair and hat combination look stylish as opposed to looking like an after thought.
Hats provide a sense of anonymity if they?re lucky, but at the very least, they do not have to worry about making sure their golden locks are picture perfect, effectively creating hairstyles for hats simply by not styling it at all. Throw on a hat and they look gorgeous again!
~
Hats for sun protection

Choosing a hat for sun protection is a good idea for everyone. It not only protects color-treated hair from the sun?s rays, but it keeps places such as the cheeks and the tip of the nose from getting sunburn. Let?s face it. No one wants to look like Rudolph the Red Nosed Reindeer after a day outside in the sun. These days designers have capitalized on this idea, creating women?s sunblock hats that block the sun directly and even the cutest baby hats ever designed to make your baby even cuter than he is naturally.
Hairstyles for hats

While you do not have to worry about hairstyles for hats that babies or small children wear, women can get creative under their hats. By creating loose pigtails that peek out the side of a ball cap or placing a curl that helps frame the face by sneaking from under the brim of a picture hat, you can use hairstyles to add to the fashion statement. A hat can be used to accent a maid of honor?s dress in a wedding party or even worn by the bride herself.
Play around with your hair and see what you can come up with underneath the hat or cap. You may end up finding out you can have a whole new style with a few tweaks of your curls or by twisting that braid to fall just right. Who knows? Your hats may become your best fashion friends.
 
Hat and Hair Styles: Fashion Era