Which hairstyling tools to choose for curly hair?
By Catalogs Editorial Staff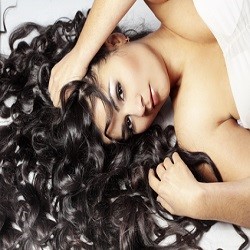 Amp up your hair routine with made-for-curls styling tools
It?s a popular saying among hair stylists: you always hate the hair you were born with. But how many straight-haired girls buy into that? After all, there's not much to hate about hair that needs little more than a dabbing with towels before it dries to a smooth-as-satin finish. 
Curls, on the other hand, are high maintenance. They need ritual and piles of gook or they end up resembling Brillo pads. And the secret to that ritual, whether you have soft waves or spirals, is knowing which hairstyling tools to choose for curly hair.
Anti-frizz microfiber
Before you continue reading about the Which hairstyling tools to choose for curly hair? there is a special announcement we would like to share with you. Catalogs.com has negotiated special medicare rates for our vibrant community of seniors. If you are over the age of 60, you can head over to our Seniors Health Section which is full of information about medicare. All you need is your zip code and a few minutes of your time to potentially save 100s of dollars on your medicare bills.
The time and money spent on sulfate-free shampoos and deep conditioning treatments are a bust if your hair routine?s next step has you reaching for a towel. Rubbing, squeezing, and wringing out your locks are counter-productive to less frizz and no split ends, says celebrity hairstylist Monae Everett. That?s because coarse-textured cotton and terrycloth scatter lint onto hair, and lint causes tangles.
The answer, say experts, is anti-frizz microfiber. Because it?s finer than silk, microfiber is gentler on delicate curls. And because it absorbs water faster than regular towels, you spend less time under a dryer?s damaging heat.  
After cleansing, remove excess water by scrunching curls with either a microfiber towel or hair-drying gloves. Then either air dry or use a diffuser to set curls in their natural shape.

Diffusers
Air drying causes hair to frizz, but blow dryers work against the natural curl. Diffusers solve both problems. These attachments to hair dryers come in different types suited to different curls?from high-volume to tight. Diffusers allow air to circulate around the curls rather than blasting them into a certain direction, as blow dryers do.
~
If you?ve just showered, dab your hair with microfiber towels or gloves. Then attach the diffuser to your blow dryer and set the heat to low. A brush works against the curl's natural shape, so instead use your fingers to cup hair into the diffuser, one section at a time. 
Curling Irons
Even natural curls sometimes need a pick-me-up. Whether your goal is defined swirls or beachy waves, the pros recommend small-barreled irons in sizes no larger than a 1/2- to 5/8-inch. Irons made of ceramic or tourmaline are preferred because they retain moisture in hair and don't produce frizz. 
Just remember to protect your fine-textured curls from high heat, especially if they?re color-treated. Professionals recommend setting the temperature below 200 degrees and never going over 400 degrees.
Shampoos
Because curly hair tends to be dry and because many shampoos can strip hair of moisture, experts recommend shampooing no more than twice a week. Sulfate-free shampoos are the way to go for a deep clean that doesn?t leave hair scorched, say the hair pros at Naturally Curly.com.  
And some curlies are skipping the shampoo part altogether, opting instead for a conditioning wash known as a ?co-wash.? The idea behind a co-wash is to rely on the traces of detergent contained in conditioners to clean hair without removing its natural oils the way shampoos can. 
Conditioners
You may have the option to forego shampoo, but don?t even think about killing your conditioning regimen. ?Curly hair is thirsty hair,? says Michele Bender of Naturally Curly.com. This means you need to tackle the hair?s natural dryness with weekly applications of intense moisturizers, preferably those containing seed butters, or hot oil treatments that pull conditioners deep inside the hair?s cuticle. ?Lay it on thick,? says Bender, and ?don?t skimp on the ends since they?re the driest part of the hair.? 
For everyday use, reach for leave-in conditioners that work especially well when air drying. These conditioners do double duty as detanglers. They also tame frizz, leaving hair more manageable and easier to style. 
Styling Creams
Styling creams have made it onto every curly-haired woman?s impossible-to-live-without-products list. Their variety seems endless, from argon-oil based moisturizers to conditioning gels that protect hair from dryers and curling irons.
Decide on your hair goals, then use trial and error to find the perfect fit. Curly hair model Brit Watkins applies a coconut-oil based sculpting gel that hydrates hair and doesn?t overpower the natural curl. When her curls go limp, Watkins prefers using weightless curl definers that don?t need rinsing.
And if harsh weather turns your curls brittle, soften them by massaging serums throughout the scalp before drying. Most beneficial are serums made of safflower oil. They contain oleic acid, a vitamin that strengthens the hair follicle and boosts shiny curls.
Popular Savings Offers