Halloween Cocktail Recipes with a Kick
By Catalogs Editorial Staff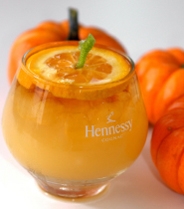 Halloween cocktail recipes to make your party a spooky hit!
Everyone knows that trick or treating is for kids, but Halloween doesn't have to be.  It's always fun to leave the kids with a grandparent or babysitter and head out to a spooky Halloween party for grown-ups.
These are some popular halloween cocktail recipes to bring that party alive and keep it kickin' all night.  Most are very easy to make and all can have a Halloween theme with the help of a few party supplies.
Before you continue reading about the Halloween Cocktail Recipes with a Kick there is a special announcement we would like to share with you. Catalogs.com has negotiated special medicare rates for our vibrant community of seniors. If you are over the age of 60, you can head over to our Seniors Health Section which is full of information about medicare. All you need is your zip code and a few minutes of your time to potentially save 100s of dollars on your medicare bills.
Black Cat Martini
Our opening drink is a very simple, quick concoction that is easy to make, but has a great Halloween feel. 
-2 oz. Blavod Black vodka
-1/2 oz. Chambord
Combine in shaker with 1 cup ice.  Shake and strain into chilled cocktail glass.
Black Devil Martini
This simple, but fun little number comes from the American Professional Bartending Schools of Illinois in Chicago.
-2 oz dark rum.  The darker the better.
-1/2 oz. dry Vermouth
-1 black olive
Stir, strain into chilled cocktail glass.  Add olive on a toothpick.
The Jack O' Lantern
This great recipe comes from Southern Hospitality in New York City.  Use a lowball glass and garnish this drink correctly to get a great tasting drink that looks like a pumpkin.
-1 oz Hennessy VSOP Cognac
-1 1/2 oz orange juice
-1/2 oz ginger ale
-1/2 oz Grand Marnier
Shake combined ingredients and strain into lowball glass over ice.  Place an orange slice (wheel) over the top with a lime twist in the center of the wheel as a garnish topper.
Fake Blood
-1 oz. bourbon
-1/2 oz. lime juice
-Tomato juice
-1 tsp. Tequila
Pour the bourbon and lime juice in glass over ice.  Fill remainder with tomato juice and stir.  Then add Tequila.
~
The Creepy Crawler
This cocktail, created by Leo Ramirez of the Atlantic Hotel's Trina Lounge in Fort Lauderdale, FL, is a little more involved than most of the cocktail mixes listed here, but well worth the extra effort.
-1 oz Brandy
-1 oz Blood Orange Puree (or regular orange if you can't find blood orange)
-2 oz GranGala Triple Orange Liqueur
-1/2 oz Simple Syrup
-1-12 oz Bag of Dark Chocolate Chips (for the web)
-1 Orange Slice (chocolate dipped on sides for effect)
Start by melting some chocolate chips in the microwave for 20 seconds or until almost completely melted.  Stir with a spoon to get an even consistency and put the melted chocolate into a squeeze bottle.  Use the squeeze bottle to draw a web onto the inside of a martini glass and chill glass for later use.
Combine ingredients and shake well.  Pour into webbed glass and add orange slice to edge of glass as garnish.
Witches Brew
This recipe, courtesy of Semi-Homemade Cooking with Sandra Lee, is probably the most complex of the group, but also the most impressive for a party.
-1 6-ounce package of lime Jello
-2 cups water
-3 cups chilled pineapple juice
-1 2 liter bottle lemon-lime soft drink (Sprite, 7-Up, Sierra Mist) or ginger ale
-2 cups chilled vodka, optional
Special equipment needed
-1 large black plastic cauldron, available at party or craft stores
-1 punch bowl that fits inside the cauldron
-1 plastic hand available at any party supply store, sterilized in hot water
-1 block dry ice, available at supermarkets, ice companies
Pour the gelatin mix into a large bowl. Slowly stir in the boiling water. Stir until gelatin is completely dissolved. While still stirring once gelatin is dissolved, add pineapple juice. Let cool to room temperature.
Place the block of dry ice in the bottom of the cauldron. Don't touch the dry ice directly and keep away from kids (and pets). Use an ice pick to break the block into smaller chunks if necessary to fit.
Fill the cauldron with just enough water to cover the dry ice. It will begin to "steam."  Place the punch bowl inside the cauldron, on top of the dry ice. The cauldron will appear to be magically smoking.
Trap the sterilized rubber hand between the cauldron and the punch bowl so it looks like it's reaching out of the mist.  Pour the drink mixture into the punch bowl. Slowly add the vodka and soda. Stir gently to mix.
Try 'em all
Some of these ideas are more involved than others, but have a higher payoff in effect, but if you're throwing a Halloween party for adults and want to impress, go full bore and throw all of these halloween cocktail recipes into the mix!
Popular Savings Offers