Halloween ideas for homemade costumes
By Catalogs Editorial Staff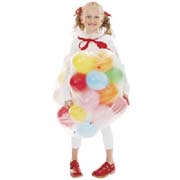 Simple Halloween ideas for homemade costumes
The holidays can be a stressful time, especially for parents of children who want the latest and greatest costumes, presents, etc. Halloween is just around the corner and kids across the country are already asking mommy and daddy to help them come up with ideas for cool Halloween costumes. While store-bought options are usually the easiest way to avoid a Halloween headache, making your own homemade costume is both fun and economical. Involve your kids in the process and turn Halloween costumes into a fun 
craft project
 that parents and children can enjoy together. Here are just a few Halloween ideas for homemade costumes that you can make in little time without too much cost or effort:
Bag of Jelly Beans
Before you continue reading about the Halloween ideas for homemade costumes there is a special announcement we would like to share with you. Catalogs.com has negotiated special medicare rates for our vibrant community of seniors. If you are over the age of 60, you can head over to our Seniors Health Section which is full of information about medicare. All you need is your zip code and a few minutes of your time to potentially save 100s of dollars on your medicare bills.
What you'll need:
1 clear trash bag
balloons in several different colors
flesh-tone leotard for underneath costume
large colorful ribbon
Procedure:
Blow up several balloons of varying colors but try to keep them all around the same size. Don't blow them up too big. If the balloons are over-inflated, they may pop. Also, you want them to look like jelly beans proportionate to the size of the trash bag. So, keep the balloons on the small size. Once the trash bag is ready, all your child has to do is put on a flesh-colored leotard and climb into the bag, poking holes for their arms and legs as they get into the bag. Secure the bag around the neck with a ribbon by gathering the trash bag at the neck and tying a bow around the neck with the ribbon.
~
Butterfly
What you'll need:
black sweat pants and sweat shirt
poster board
headband
pipe cleaner
pom poms
glitter
colorful paint
black ribbon
Procedure:
Cut the poster board into the shape of butterfly wings. Paint pretty butterfly patterns as desired and use glitter where necessary. Cut two tiny holes in the center of either side of the poster board. Attach black ribbon to the poster board to create loops for arm holes. Create a headpiece by attaching two pipe cleaners to the headband and placing a pom pom on the end of each pipe cleaner. Decorate the pom poms with glitter and accesories if desired. Put on the sweats, put your arms through the loops on the wings, and place the headband on your head. Colorful sneakers or jelly shoes will also add to the vibrant effect of the costume.
Mummy
What you'll need:
white long underwear
medical gauze
safety pins
Have your trick-or-treater dress in white long underwear. Take the medical gauze and pin it to the bottom of one leg of the underwear, wrap the leg and repeat this process with all arms and legs. Wrap midsection the same way. For the face, safety pin the gauze to the collar of the shirt and wrap face leaving ample room for eyes, nose and mouth. Keep in mind that this costume is not meant to look perfect and a few pieces hanging here or there will only add to the effect.
Don't just go to the store and buy a costume this Halloween. With our Halloween ides for homemade costumes, your kids will not only wear their costume, they will be able to take pride in the fact that they helped make it. You will also save plenty of money that will most certainly come in handy when it comes time to buy Christmas or Hanukkah gifts.
Popular Savings Offers