How to store heirloom baby clothes
By Catalogs Editorial Staff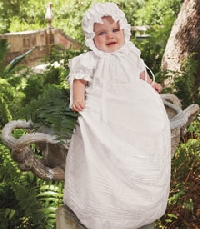 A few simple tips to keep fabrics safe when storing heirloom baby clothes
Is your child making her First Communion or going to someone?s wedding? If so, you can find beautiful baby clothing for any
occasion at specialty children's stores, department stores and online retailers
. Frilly dresses for little girls and cute outfits for boys are timeless. After you purchase lace-endowed summer dresses or boys? sailor suits and enjoy your children wearing them for one season, you might want to save them for future generations.
Read on if you want to find out how to store heirloom baby clothes for special occasions, like christening gowns, or just your favorite outfit from a regular day in the life of your little one.
Before you continue reading about the How to store heirloom baby clothes there is a special announcement we would like to share with you. Catalogs.com has negotiated special medicare rates for our vibrant community of seniors. If you are over the age of 60, you can head over to our Seniors Health Section which is full of information about medicare. All you need is your zip code and a few minutes of your time to potentially save 100s of dollars on your medicare bills.
The cleaner the better.
Many items, from papers to fabrics, can age badly if not preserved properly. Metals can easily stain delicate baby clothing and dirt left on the items can destroy the piece while it waits for its return to the world.
To prevent your baby clothes from being destroyed, remove any pieces of metal such as buttons or any other little embellishments that can be sewn back on later. Keep them separate from the clothing such as in another box attached directly to the box containing the fabric. This will keep the metals from staining the pieces and will also keep them where you can find them. You can jot the contents of the box directly on the bottom of the box with an acid free pen, or attach a slip of paper noting where you stored the buttons to the box containing the item of clothing.
~
Acid-free is best. 
What is acid-free paper? Before things like soy ink came into their own, acid ran rampant among paper and fabrics. This acid ate away at old photographs, newspapers even old wedding dresses. The way to combat the browning and yellowing of any type of paper or fabric is to use acid-free products, hence the acid-free pen mentioned above. Using an acid-free pen on an acid-free box with acid-free tissue paper is one of the best ways to keep any clothing bought for an important occasion from deteriorating.
Find a box large enough to let air circulate around your item even though your box will be closed. If you store your heirloom items in plastic bags or plastic wrap, you only give the acid a chance to get into the fabric hastening the deterioration of the fibers in the fabric.
Handle with care.
Your hands go through a lot each day. This contact leaves oils and residue on them that can transfer to your fabric. Your hands should be washed thoroughly and dried with a cotton towel to reduce this possibility. The surface you work on should also be cleaned carefully and covered with a cotton sheet or other dust-free fabric. Any oils on your hands or your table can damage the heirloom piece which is the reason for the extra caution. A simple white sheet also makes it easier to see the folds and grooves of your piece while working with it.
Keep it real.
Your first inclination when putting away newborn clothing, boys or girls clothing is to fold it, but not in this case. Folds will create nasty creases that may add tension to the fabric thereby pulling apart the fibers. It may even cause discoloration despite your efforts at keeping everything acid-free. To avoid these issues, keep the item as if it was being worn. Stuff the sleeves and the trunk of a sweater, for example, with acid-free tissue paper. If you are storing a hat, stuff the hat to look like it is being worn. Be sure not to overstuff the item. You do not want to stretch the fabric either. Just put enough crumpled tissue to keep it from losing its shape until it comes out of the box again.
Store carefully in a dark place.
The back of a seldom-used, dark closet is one of the best places to store heirloom baby clothes and kids outfits. Humidity is another agent of doom for fabrics, so a closet that does not border an exterior wall is the best place for your box. With little light and low humidity, your heirloom clothing should last many years. About once a year, take out your item and inspect it for damage, then repackage it and return it to its place in the closet. Storage for the home is easy with many  exciting new products to help you do just that.
By learning how to store heirloom baby clothes, your special clothing purchased for a family occasion should last through generations. When the next child – perhaps a grandchild or great-grandchild – is ready to wear that dress or romper, it should look as good as new!
Just make sure to keep it clean, store carefully and inspect it regularly and you will be sure to keep your items safe for years to come.
Preservation Station: baby clothes preservation
Baby Clothing Storage: how to preserve outfits
Popular Savings Offers