History of Mardi Gras
By Catalogs Editorial Staff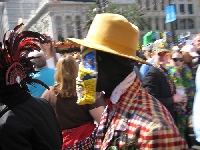 The history of Mardi Gras has an interesting backstory
The history of
Mardi Gras
dates back thousands of years to celebrations of spring and fertility. Today, it's known around the world as a time to let it all hang out (literally). Taking place in sites like New Orleans, Venice, Brazil, and other locales around the world, the Carnival draws revelers, tourists, and party-goers alike.
In the rest of the article, we'll delve into the origins of the Carnival and its gain in popularity during the 1700's, and beyond. Today, people from around the world celebrate with beads, floats, parties, and costumes rounding out the experience. It is, as some have called it, the greatest free show on Earth!
The Origins
Before you continue reading about the History of Mardi Gras there is a special announcement we would like to share with you. Catalogs.com has negotiated special medicare rates for our vibrant community of seniors. If you are over the age of 60, you can head over to our Seniors Health Section which is full of information about medicare. All you need is your zip code and a few minutes of your time to potentially save 100s of dollars on your medicare bills.
The Roman festivals of Saturnalia and Lupercalia were fore-bearers to our current day variation of the Carnival. With the advent of Christianity in Rome, leaders of the time decided it was necessary to incorporate popular local traditions into the newly formed faith. In essence, the Carnival became a party to be celebrated before Lent.
Both religion and Mardi Gras spread throughout Europe during these times; it moved though cities such as Germany, France, Spain, and England. Revelers would normally eat (binge) on eggs, meat, milk, and cheese, in the days leading up to Lent. It was then that the word "Carnival" came into existence and helped to describe the pre-Lent festivities.
The U.S. Variation
Many history buffs believe the first celebration of Carnival to have occurred in the early 1700's. Two French explorers — Iberville and Bienville — landed along what is now known as Louisiana. They came in just due south of New Orleans and held a mini-celebration, as it was on the eve of the holiday.
Iberville and Bienville called it Pointe du Mardi Gras and it was the beginning of soon-to-be burgeoning celebrations. There were street parties, masked balls, expensive dinners, and more, throughout the years.
During the time when the Spanish took control of the city, the festivities were abolished completely. The festival bans were kept in place all the way until 1812, when Louisiana became a U.S. state.
Changes to the Festivities
What started in 1827 with students wearing colorful costumes and dancing the night away grew to the first recorded parade, which took place 10 years later. Since that day, parades have been paired with the holiday like clockwork.
In 1857, the Mistick Krewe of Comus — a secret society of New Orleans businessmen — took part in a procession of marching bands, floats, and other festivities. In the years following, Krewes became a true fixture of the Carnival; throwing beads, wearing masks, float decorations, and eating King Cake all came out of these first celebrations and have remained a part of the show all these years later.
Today, Louisiana is still the only state which actually recognizes Carnival as a legal holiday. With this being said, other states have their own festivities and traditions as they celebrate each year. Alabama, Mississippi, and others draw solid crowds for their state-specific events and parties.
~
Around the world, Carnival is an important part of yearly traditions for many involved. Brazil, Canada, Italy, Germany, and others all celebrate with their own traditions and events. Those sites with significant Roman Catholic populations are where a majority of the celebrations tend to take place.
In the end, the history of mardi gras is a complex one. It's grown into one of the most popular yearly events around. Why not get yourself an adult costume, buy a pair of airline tickets, and prepare yourself for a great, great time of delicious food, fantastic people, and good drinks? Fun and good times are waiting.

Resources:
History.com: Mardi Gras.
MardiGrasNewOrleans: Mardi Gras History.
Above photo attributed to PhelanRiessen
Popular Savings Offers