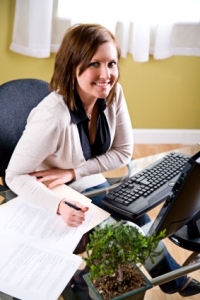 Mix it up in your office to get a customized fit.
Most of us need some kind of space in our home to use as an office area. For some, it might be the den or guest room; for others, a corner of the living room. This separate space is important whether we're running a business from home, telecommuting, paying bills or just doing homework.
The key to making the area work well is to maximize the space to its full potential. This is turn helps us work to our full potential. When it comes to effective space planning, modular furniture is your best bet. A modular desk set has all the design style of executive furniture with the added advantage of being customizable.
Be Picky and Choosy
You can choose separate pieces from a modular collection to personally fit your office space however you wish. It's easy to configure according to the square footage you're working with and the functions you'll be performing. And then later, it's easy to reconfigure your pieces as needs arise and change.
The Design Factor of Modular Pieces
Once you've determined what your office needs are and the amount of room you have to work with, looking at a home office modular desk collection will give you an idea of the pieces you can incorporate. Depending on your work activities, modular pieces can be fitted in to organize your office area with as many or as few pieces as you need.
If you decide you only need a corner computer desk, filing cabinet and printer stand right now, you can always change up the pieces later by adding additional elements such as stackable shelves or another desk section. Moving your CPU cart so you can put a filing cabinet in its place is as easy as mixing and matching. 
A Comfortable Work Area is Key to Productivity
We all need to be comfortable while we're working. Studies have shown that our workspaces need to function well, be ergonomic and easily adaptable to our working needs. When these basic necessities are met, whether at home or in an office, we are more relaxed and comfortable. This significantly increases creativity and productivity, as well as discipline.
If you work from home, you are probably well aware of the diligent need to stay disciplined. But it's hard to maintain a focused work schedule if you're trying to work at the kitchen table where the family eats and the kids do homework. Even if you only have a very small space in which to work, a few modular pieces in the corner of the living room can provide the separate 'office' area you need to work more efficiently.
 ~
Adapt Your Home Office Space
Often, an entire household will need access to the internet and a work surface for their own use. A home modular desk collection can be easily adapted with one or several work stations depending on the pieces you choose. You can even set up desk configurations to give privacy to each user.
Home office furniture can provide as many work stations as you can fit into the space. Each family member can have their own work area for computer time, the internet, homework or crafts. Even if there's only room for one desk, it too can be divided into a couple of different work stations, one on each side.
Modular Pieces are Stylish and Economical
When setting up your home office, you have many choices in styles, colors and finishes in the modular designs being sold now. Modular furniture doesn't have to look boxy; beautiful new collections look anything but. Styles range from traditional to modern and everything in between.
Any home office modular desk collection you choose has the ability to evolve with you as your work needs change, and your modular set will usually be preferable to a heavy built-in piece. Because of their portability, it makes better economic sense to buy modular:
— Modular pieces can be changed or updated as work needs change.
— They can be moved to another room or shifted around the same room, whereas you're stuck in the same spot with a huge built-in piece.
— Custom built-in pieces are not a great selling point if you have your house on the market; they actually reduce the chances of a sale if a buyer doesn't want a built-in unit in that particular space.
— Modular pieces are a cheaper initial investment; well-made modular furniture is usually very durable and has a lot of value-added features.
Even if you have a big office with room for freestanding furniture pieces, you will still benefit from the adaptability of modular designs. The mobility and adaptability of modular furniture helps you work faster, smarter and more comfortably. And with so many design choices, you can have the perfect home office set up.