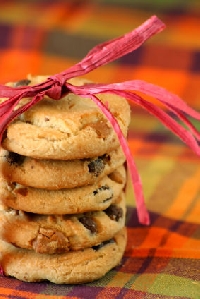 Food gifts made by hand proudly display your love this holiday season.
It?s that time of the year again when most of us, no matter how hard we try to resist temptation, end up a few pounds heavier than we were before the holidays. The temptation is just too great and the delicacies too delicious to pass up. When shopping for those you love this holiday season, why not consider home made food gifts? Nothing says, ?I love you? more powerfully than a gift made by hand.
Better get your kitchen into full production line mode now if the plan is to turn out loads of goodies for homemade food gifts. If you are truly baking-challenged and fearful of such a big culinary step, consider buying some homemade food gifts this year and working on ideas for next year when you won?t be so wet behind your cooking ears, so to speak. There are many homemade food gifts that don?t require cooking anyway, so don?t despair.
~
What are some easy homemade food gifts?
Homemade food gifts need not take much time to create, but they do require some thought. If your gift is for a ?down home? cook with a flair for southern cuisine, for example, fill a big basket with Southern flour, cornbread mixes, grits and special syrups. Add some culinary implements like wooden spoons and a spatula (or both) and tie it all up with a pretty bow. If you have a gourmet cook on your holiday gift list, prepare a special basket of different types of vegetable oils, jars of capers, roasted peppers, artichoke hearts, anchovies and maybe even a cookbook featuring a specific type of cuisine.
Consider some of these other ideas for homemade food gifts
1- Bread, biscotti or crackers
These edibles are always welcomed and they can be unusual as well. Each country in the world produces its own versions of bread, biscotti and crackers and many gourmet food stores carry many different varieties of them. Check out this Cinnamon Hazelnut Biscotti recipe if you want to make your own and are feeling courageous.
2- Canned homemade food gifts
Festive preserves, chutneys, relishes and sauces make wonderful homemade food gifts for family, friends or coworkers. Many can be made all year round and frozen, which saves time as the holidays draw near. You can also arrange baking mixes, beans and assorted soup seasonings and put them in attractive jars. Give your concoction a special name and label such as; Veggie Soup Gift Jar or Three Bean Chili Jar. Make sure that any jars you use have reliable seals.
3- Fudge and candy
Fudge and candy are old homemade food gifts that are just as sweet and fattening today as they were in days of old. Still it?s time to indulge and throw calories to the wind (even though they will come back to bite you in places where you could live well without them). If you don?t have family favorites, fudge and candy recipes abound on the Internet.
4- Cookies
Probably there is no homemade food gift more sought after and created more often than cookies. Every country in the world has its traditional version of ?holiday cookies? and you really should try making some this year as they are easy and fun.
5- Fruitcake
No list of homemade food gifts could be complete without mention of that ubiquitous fruitcake. It is a holiday tradition despite that old joke about there only being one fruitcake in the world that is never eaten and keeps traveling from house to house every year in hopes that someone somewhere will give it a try!
6- Liqueurs or Extracts
Many of these liqueurs are very easy to make and they are well appreciated by people on your gift list that love to cook. Find some unusual and/or fancy bottles and voila!
Put on your (homemade) thinking cap this year and invest a little time into making at least some of your gifts this holiday season. Make them tasty and pretty and live up to what Oscar Wilde once so aptly said:
? I can resist everything but temptation.?