Homemade Halloween costumes for adults
By Catalogs Editorial Staff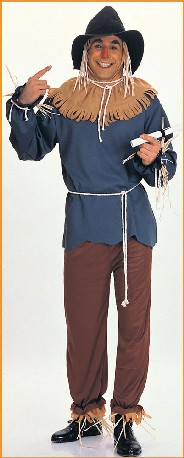 Dress up in a homemade Halloween costume to join in the fun with your kids.
Halloween is coming up soon, and with how fast time seems to go these days, it will be here before you know it. Whether you're going to a Halloween party or taking your kids trick-or-treating, it makes things more fun if you dress up, too. Some of these
homemade Halloween costumes
make it easy for you to join the festivities ? and they'll give you a great opportunity to embarrass your kids, too.
Dalmatian
Before you continue reading about the Homemade Halloween costumes for adults there is a special announcement we would like to share with you. Catalogs.com has negotiated special medicare rates for our vibrant community of seniors. If you are over the age of 60, you can head over to our Seniors Health Section which is full of information about medicare. All you need is your zip code and a few minutes of your time to potentially save 100s of dollars on your medicare bills.
Supplies:
White sweatshirt and sweat pants
Black felt or craft foam
White tube sock
White felt or craft foam
White plastic headband
Safety pin
Wire coat hanger (optional)
Glue gun
Directions:
Cut various sizes of black dots out of the felt or craft foam. Use a glue gun to glue the dots randomly all over the sweat suit. Cut ear shapes out of the white felt or craft foam, and glue smaller black dots to these. Glue the ears to the headband. For the tail, stuff the white tube sock full of newspaper. Glue some black dots onto it, then safety pin it to the back of the sweatpants. If you want a tail that sticks out, bend the wire coat hanger flat and insert into the tail before pinning it to the pants.
Bunch of Grapes
Supplies:
Green or purple balloons
Safety pins
Green craft foam
Green plastic headband
Glue gun
Directions:
Cut the craft foam in the shape of a stem and some leaves, then glue to the headband. Blow up the balloons and tie them closed. Carefully use the safety pins to attach balloons to your clothes in the shape of a cluster of grapes. Put your "stem" on your head.
Scarecrow
Supplies:
Flannel shirt
Faded blue jeans, preferably with patches
Thin rope
Straw
Straw hat
Directions:
Put the shirt and jeans on, tucking the shirt into the jeans. Thread a length of rope through the belt loops of the jeans, tying in a knot in front. Tie shorter lengths of rope around the arm and leg cuffs. Stuff a few strands of straw into each cuff. Put the hat on your head and you're ready to go.
~
Tourist
Supplies:
Oversized Hawaiian shirt
Bermuda shorts
Badly folded map
Camera hanging from strap around the neck
Directions:
Put on your costume ? it's as easy as that!
Static Cling
Supplies:
Black sweatshirt and sweat pants
A few socks, pairs of underwear and nylon stockings
Fabric softener sheet (or two)
Safety pins or glue gun
Hairspray
Directions:
Use the safety pins to fasten the socks, underwear, stockings and fabric softener sheets to various parts of the sweat suit. If you don't wan the pins to show, you can glue the items to the sweat suit, but then you won't be able to reuse the items. Spray your hair straight up and out ? you're static cling!
Spider
Supplies:
Black sweatshirt and sweat pants
4 pairs of black stockings or tights
Dark fabric or paper for stuffing
8 wire hangers
Wire cutters
Safety pins
Black face paint and watch cap (optional)
Directions:
Stuff the stockings full of dark fabric or paper. Use wire cutters to snip the hangers open and straighten them out into a long piece of wire. Insert one into each stocking. Attach the "legs" to the sweat suit with safety pins; bend the hangers into appropriate leg shapes. If you want to go all out, cover your face with black face paint and wear a black watch cap or stocking hat.
Christmas Gift
Supplies:
Large box ? large enough to step inside it
Christmas wrap
Tape
Large bow
Red or green plastic headband
Glue gun
Directions:
Cut a hole for your head in the bottom of the box. (Tape any flaps together, if necessary.) Cut armholes in the sides of the box. Wrap box with Christmas wrapping paper, taping paper around the holes. Glue or tape the large bow to the top of the headband. Step into your box, put your bow on, and you're all set.
Homemade Halloween costumes can be an easy way to dress for the occasion, and kids aren't the only ones who should join in the fun.
Popular Savings Offers