When you buy something using the retail links in our posts, we may earn a small commission. Catalogs.com does not accept money for editorial reviews. Read more about our policy
here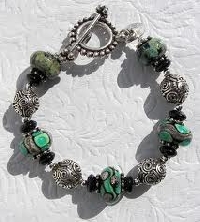 Wondering how can I craft with beads? Read on for some fun and creative ideas
Crafters and non-crafters alike have often wondered "can I craft with beads," especially when they see all the different colors and shapes beads come in.
The answer to this question is quite simple: almost anything. From clothing to home decor, you can create pieces of art with this versatile material.
Bracelets and Necklaces
Perhaps the easiest item to make using the craft piece is jewelry. One-of-a-kind beaded jewelry creations can be given as gifts or you can keep them for yourself.
Bracelets and necklaces are easily enhanced with gorgeous beads. Start with a basic necklace or bracelet that lacks any kind of adoration. A simple gold or silver chain works, and so does a piece of thick thread.
~
Slide the beads onto the bracelet or necklace in whatever order appeals to you. Alternating colors, textures and sizes creates a stylish piece, but so does using all one hue or a single size. Focusing the entire piece around a certain pendant or bead allows you to showcase an item that is special to you, or that complements your favorite outfit.
Separators also add color and texture to your jewelry, and allow you to space out the beads and hues. And because the items are so easy to make, you can create jewelry items for just about any occasion, or even specific articles of clothing.
Instead of spending lots of money on those bracelets that are designed for moms, you can create your own. She will likely even love yours more since you made it yourself and picked out pieces that are unique to her tastes. 
Napkin Rings
Is your table setting lacking? Do you need some added spice to your home decor? If so, add some of the pretty pieces to your napkin rings.
Choose several different shapes and sizes, or choose one or two unique pieces in which to adorn the napkin rings. Plan out a design for the beads, or place them on without abandon — whatever you prefer.
Start with plastic, wooden or metal rings and use washable glue to affix the beads. Match the beads to your table setting or select your favorite shades.
Sprucing up your napkin rings using this simple trick allows you to create a new look for your table, without spending much money at all.
Clothing
Add some sizzle to your everyday clothing items with the help of these brightly-colored beads. Create couture-looking jeans by placing the beads on the front or back pockets. Outline the pockets with the pieces, or create designs. Hearts, stars and diamonds add a feminine touch, and creating your initials makes them one-of-a-kind.
Create flip-flops you can wear to the beach just as easily as you can with a pretty dress by gluing sparkling beads to the straps. Use this trick to make even the most plain flip flops look glamorous. Use different colors, or stick to the same shade — whatever looks best to you.
Accessories
Take your accessories to the next fabulous level by adorning them using your craft skills. Boring headbands and barrettes become sassy with the help of sparkling or brightly-colored beads.
Belts can also become unique with the help of this technique. Choose a cotton belt that features a color you enjoy, and glue the beads to the material. This trick turns a boring belt into something quite special.
Even the wrist band of a watch could benefit from a sprinkling of beads. Since bands are often the most bland-looking element of the watch, you can use your imagination to create a band that is just as exciting as the face.
Having the thought "what can I make with beads" just might be the best idea you've had in a while, and can turn your home and clothing into signature pieces that are envy-worthy.