How do you get into interior design
By Catalogs Editorial Staff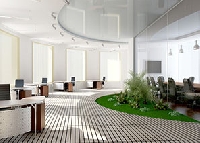 How do you get into interior design? School and networking, of course
Interior design is a dynamic creative profession, but there?s so much more to it than creating the right lines or choosing paint colors. What you don?t see on the home design shows is that more than half the job is business management ? managing clients, vendors and complying with local codes. But if you?re wondering how do you get into interior design, you?ve probably already been bitten by the bug.

Meet FIDER

Today, there?s an accreditation process that teaches the principles and practices you should know before selling your services. The Foundation for Interior Design Research (FIDER) is the organization that has credited these programs since the 1970s. Completing an accredited course opens up internships, connections and opportunities that make it easier to break into this competitive field and
become an interior designer
at last.
Whether you aspire to work with a well respected design agency or start your own firm, employers and potential clients will expect you to have at least a Bachelors degree and experience, according to The Guardian's career spotlight. This is the catch 22 of many professions. Those starting out have to wonder how they?re supposed to gain experience if all the gatekeepers require experience just to consider you.
~
Before you continue reading about the How do you get into interior design there is a special announcement we would like to share with you. Catalogs.com has negotiated special medicare rates for our vibrant community of seniors. If you are over the age of 60, you can head over to our Seniors Health Section which is full of information about medicare. All you need is your zip code and a few minutes of your time to potentially save 100s of dollars on your medicare bills.
While studying for your degree, take courses that will give you a leg up on the competition ? business courses so you can run your own show, art classes so your sketches make sense and improv classes so you can pitch big clients with confidence. Learn design software and computer drafting in order to hone skills that are in high demand. These will get you in the door for internships and, when it?s time, help you land a higher pay scale for your first position. 
The reasons to study the craft rather than taking a learn-as-you-go approach go far beyond landing a good job:
Courses teach students how to put complicated ideas on paper. 
Translating the client?s ideas into a comprehensive design vision that factors in budget, timeline and other limitations is a skill that requires a foundation. 
Sure, you may have a natural eye for style, but the requirements to become certified prevent students from learning on the client?s dollar.

 

 
Getting an interior design license
Certification is the next step after school. The National Council for Interior Design Qualification (NCIDQ) requires a minimum of six years of experience before applicants can take the licensing test. These six years can be a combination of four years of FIDER accredited schooling and two years of working, or two years of FIDER schooling and four years of work experience.
Network like your professional life depends on it
The real answer to how do you get into interior design is to network your butt off every step of the way. Make friends with your classmates. It?s much more fun to see them as future colleagues rather than competition. Go to as many industry events as you can afford. Many cost money but you can contact the organizer to see if you can volunteer to work the event. 
Always behave like a professional whether you?re in class, at a conference or interning. Local design communities are tight knit so make a point to only speak positively about people.
Turning an internship into a paying job takes hard work and a lot of long hours. Try to see this as a great learning experience and when you start to feel burned out, step back and remind yourself why you wanted to get into this field in the first place. Your creative passion will thrive in this profession, but you have to put in the blood, sweat and tears to get there.
Once you learn the basics, every day will be different. Design is an ever changing field and there will always be more to learn. So stop wondering how do you get into interior design, and start researching schools!
Popular Savings Offers