How to add fragrance to your home
By Catalogs Editorial Staff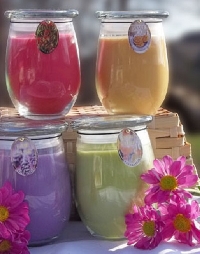 Add fragrance to your home and stir your senses with some fabulous scents
The sense of smell is one of the more powerful and evocative senses. A whiff of freshly cut grass can transport you to the warm lazy days of your childhood summer vacation. The smell of lavender can bring back memories of your honeymoon in France. Moments long forgotten can be summoned in a heartbeat with just the hint of a familiar smell. 
Recreate those moments of comfort, and calm, or romance and invigoration. Here are some easy ways to surround yourself with sensual smells and add fragrance to your home.
Fragrance Oils
Before you continue reading about the How to add fragrance to your home there is a special announcement we would like to share with you. Catalogs.com has negotiated special medicare rates for our vibrant community of seniors. If you are over the age of 60, you can head over to our Seniors Health Section which is full of information about medicare. All you need is your zip code and a few minutes of your time to potentially save 100s of dollars on your medicare bills.
Fragrance oils have long been used to cast sweet smells across a space while also stimulating various moods and sensations. A few drops of lavender on a sachet and tucked between your pillows will help to create a sense of soothing calm and is useful in sleeping quarters. Add a few drops of citrus oil and clove to potpourri to create a warm, inviting scent that is perfect for the living room.  For the kitchen, consider a crisp lemon scent or a mellow vanilla.
 ~
Aromatherapy Candles
Candles bring scent to a space, and the flickering flame also adds romance and drama. By using the science of aromatherapy, you can find scents that help to evoke certain responses. The candles are crafted using specially blended scent combinations which, along with the soft crackle of a wooden wick, stimulate the senses and create a sense of harmony.
Electric Candle (or Tart) Warmers
There are several varieties of electric candle warmers designed to add fragrance to every room of your home. Plug in candle warmers are designed gently warm wax cubes, or "tarts," that then fill the room with the fragrance of your choice. In addition, the warmers cast a soft glow without the need for an open flame. These warmers are perfect for smaller rooms and apartments, and the warmers come in a variety of styles to suit any d?cor.
Another type of electric candle warmer is the Candle Warmer Crock, which is designed to warm and melt scented candles from the sides and the bottom, thereby releasing the candle?s fragrance without using an open flame. The crocks come in a variety of colors and styles, and are useful in concealing candles that might not otherwise compliment a room's color scheme. (This can be especially desirable when using holiday themed candles!)    
Warming plates are another option for releasing fabulous fragrances into your home. Simply place your favorite scented candle atop the warming plate and allow the low heat to release the candle's aroma into the air. Perhaps one of the most convenient benefits of warming plates is that changing the scent is as simple as swapping out candles!
Tealight Warmers
Perhaps one of the more versatile tools to bring fragrance into your home is the Tealight Warmer.  These warmers are designed to accommodate many types of scent distillation, including the use of scented wax melts/tarts, scented beads, and fragrance oils. Simply light the tea light at the base of the warmer, and fill the scent reservoir with scented wax melts, beads, or oil and allow the gentle warmth to infuse the room with scent. These warmers are also available in various colors and styles, and are even available with holiday motifs.
So, pick out a few fragrances and banish the smell of gym shoes and unbathed hound dog from your house forever. Because, no matter whether you choose an electric warmer, or prefer the flickering flame of a candle based warmer, or simple but sensual fragrance oils, it is easy to create a warm and inviting home that is full of fragrance!
Popular Savings Offers