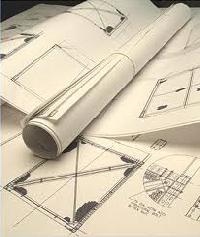 Become an architect with education, experience, talent and dedication
Architecture is a respected and rewarding profession, and it requires years of dedication.  Though many designers and homebuilders like to claim the title of ?architect,? the fact is that very few who begin in the profession ever achieve professional licensure.  Architecture is often one of the most popular majors for college freshmen, but as few as 10% of freshman architecture students will ever become licensed architects.  The major and the profession are demanding, require a broad field of knowledge, and can require extensive personal and monetary sacrifices.  Here?s a quick look at what it takes to become an architect.
1) A professional degree
To test for an architecture license a candidate must have completed a professional degree in Architecture.  There are three types of architecture degrees:  A Masters of Architecture (2 or 3 year Master?s program), a Bachelor?s of Architecture (5 year Bachelor?s program), and a BS or BA in Architectural studies (4 year Bachelor?s degree, typically intended to precede a Master?s program). 
Either a Master?s or a Bachelor?s of Architecture are acceptable for licensure in any state, while a 4-year degree is still accepted in many states, but requires additional work requirements.
~
2) Completion of the Intern Development Program
In addition to an approved degree, aspiring candidates must complete at least three years of work as part of the so-called Intern Development Program.  While in the program young architects will gain credit in a variety of fields, ranging from Design Development to Construction Administration. 
For students in states that allow a 4 year degree for licensure the requirements are extended, typically to period of roughly five years of work. 

3) Pass the Architectural Registration Exam
After completing all education and work requirements the final step is to register for an pass the Architectural Registration Exam.  The test consists of 7 separate exams, referred to as ?divisions.?  The divisions contain a total of 11 separate case vignettes, and 555 multiple choice questions.  The divisions vary in length from 2 to 5 hours.
Once one has completed all divisions of the Architectural Registration Exam he or she is officially a licensed architect in their state. 
Depending on their state requirements they will need to complete additional continuing education requirements to maintain their license.