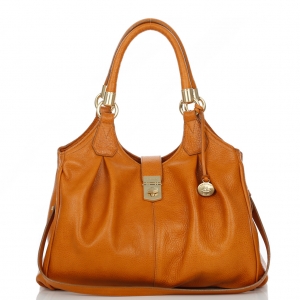 Learn how to choose a handbag because the wrong purse can make you miserable
Most women will tell you that THE essential piece of their daily arsenal is their handbag. Venture out without your purse? No way!
A tornado is approaching. What is the first thing a woman grabs as she dashes for the basement? Well, her kids, of course, but the handbag is next.
However, if you happen to select, or are gifted with, the wrong kind of handbag this can make your life pure misery. You can't find what you want when you want it. The purse is too big or too small. The straps or handles aren't comfortable.
Do you know how to choose the perfect handbag? That depends on your lifestyle, your needs and your preferences.
A handbag is a very personal item. It has to suit your lifestyle. You may have a handbag that is beautiful — but if it's not functional and doesn't suit your needs you aren't going to carry it. On the other hand, you may have a ratty-tat old handbag that you've carried for years and continue to do so because it's functional even though it has seen better days.
Handbags come in all shapes, configurations, colors and textures.
~

MESSENGER BAG
A type of handbag that many women find quite convenient is the messenger style bag that is carried on your back or can be slung over the shoulder. This is a great handbag for the woman who needs to have her hands free so she can clutch her children's hands, push a stroller or carry groceries. This bag is a cross between a laptop case and a backpack. Think of it as a newer and prettier version of the backpack that you carried in college or high school.
HOBO
The hobo style handbag has been popular for decades and is somewhat reminiscent of hippie chicks and the counterculture. A hobo bag is big, accommodating and soft. There are no hard edges. This type of handbag generally has interior dividers so that you can keep the contents separate. Hobo handbags are easy and comfortable to carry and are the favorites of many handbag lovers.

CLUTCH
A clutch bag is clutched in your hand. This is the ideal handbag for an evening out, going to a wedding and those times when you don't need to carry everything but the kitchen sink with you. A clutch will hold your lipstick, wallet and cellphone and maybe a little bit more. Clutch bags can come with removable shoulder straps so you can carry the clutch on your shoulder if you prefer. A beautifully designed clutch bag can be the ultimate accessory for a night out on the town.
CROSSBODY

The crossbody handbag is perfect for the multi-tasking woman who needs for her hands to be free. This handbag consists of a long strap that is adjustable. You wear the bag in front of your body. The strap goes over one shoulder. Because the purse is in front of you and close to your body this makes it quite difficult for pickpockets to access the contents of your purse.
SHOULDER BAG
Some women refuse to carry anything but a shoulder bag. They don't want to have to hold onto a handle. Shoulder bags comes in various sizes. Pick the one that appeals to your aesthetic as well as the one that is the most comfortable hanging from your shoulder. Better yet, choose one that has an adjustable strap.

TOTE BAG
If you travel a lot or need to carry a lot every day, a tote bag may be the best choice for you. It's big enough that you can toss a weekend's worth of stuff into it but not so big that it's going to be bulky and annoying.
Give some thought and invest some time into your next purchase of a handbag because this accessory is a very important part of your life. When a women picks the right purse, this makes her life a whole lot easier and her look a whole lot better. Handbags can be very attractive accessories.