How to flatter a plus size figure
By Catalogs Editorial Staff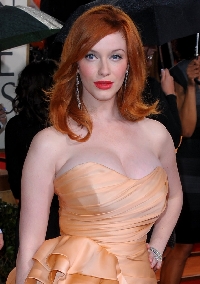 There are many ways to flatter a plus size figure with clothing style and cut
Women and girls have become convinced the only way to look good and be pretty is to boast a rail thin figure. Au contraire! Some of the most famous and coveted women in history were, and are,
curvaceous plus size girls
: Mae West. Elizabeth Taylor (at times.) Kim Kardashian. Adele. Oprah. Queen Latifah. Anna Nicole Smith. Christina Hendricks. 
Wondering how to flatter a plus size figure? It's all in the apparel you choose to wear as well as the fit, the color and the fabric. Seeking out clothing that is cut for a curvaceous figure is the key to your success.
All plus size women are not equal. They are not built the same. Some are pear-shaped while others have hour-glass figures with some extra oompft! Some are rectangle shaped and then there are those who carry extra weight predominately in their hips. Others are top heavy. There are many body configurations. 
Before you continue reading about the How to flatter a plus size figure there is a special announcement we would like to share with you. Catalogs.com has negotiated special medicare rates for our vibrant community of seniors. If you are over the age of 60, you can head over to our Seniors Health Section which is full of information about medicare. All you need is your zip code and a few minutes of your time to potentially save 100s of dollars on your medicare bills.
Look at yourself in the mirror and as objectively as possible determine what your body type is. Now dress accordingly and you will be amazed at the results. 
Rectangle
This type body features a thick waist that isn't much or any narrower than the rest of the body. This woman needs to add curves in the right places so it appears she has a waistline. If you think your shoulders are too wide, de-emphasize their width by wearing a fitted jacket or blazer. Do not wear shoulder pads.
~
A flared skirt adds curves if you don't boast them naturally. A wrap dress (think Diane von Furstenberg) creates the illusion of a waist.
Wear pointy-toe shoes. This adds length to legs and makes a woman look taller and leaner. Audacious jewelry placed conspicuously and in the right places (the neck and near the face) draws the eye upward, where you want people to look. 
Hour Glass
If you are one of those va-va-voom hour glass types but on the plus side, just like voluptuous "Mad Men" actress Christina Hendricks, show off cleavage while hiding too-ample hips by wearing a long cardigan sweater or jacket or a clingy jacket. A belt emphasizes your small waistline. Wearing ankle boots or pointy-toe shoes makes legs look longer and leaner.
Pear Shape
Women with pear-shaped bodies are significantly bigger on the bottom than they are on the top. If a pear-shaped woman is plus size, this makes the difference more visible. Dark colored pants or skirts make the lower portion appear smaller. Wearing jewelry at the neckline and on the ears as well as donning wide-sweaters and blouses draw the attention upward and make the shoulder area appear wider and more in proportion with the lower part of the bottom. Consider jackets featuring shoulder pads because you want your shoulders to look wider. 
Other Tips:
Most women already know this but here's a reminder: Vertical stripes are slenderizing while horizontal stripes do just the opposite and make the wearer look wider.
Just because you are not a size six don't feel compelled to wear amorphous, tent-shaped dresses. This just makes you look bigger. Show the curves you have.
Wear v-neck blouses and sweaters, exposing skin on the neck and revealing some decolletage. This creates the illusion of length.
Stretch denim pants/jeans are comfortable and move with you. Wear straight leg pants because the straightness results in the appearance of a slimmer, longer body.
A long skirt as opposed to a short one makes a plus-size woman look taller and thinner than she actually is.
Black, gray, dark green, brown and other neutral colors are slenderizing. You can always add visual interest, color and texture via your accessories, including jewelry, belts and scarves.

Take advantage of shapewear. Wear it under your clothing. You will see instant results. Shapewear knocks off pounds and covers lumps and bulges.

Tights and leggings are always a good choice. When they are the same color as the wearer's outfit this results in a continuous line, which creates and leaner silhouette. If you have great boobs or legs, do not hesitate to show them off. Emphasize these areas and forget about the butt that is too big or the belly that is no longer flat.

Popular Savings Offers