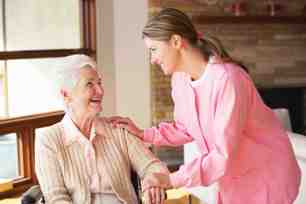 Get ready for after hospital home care with these easy changes to your lifestyle
Your loved one is about to be released from the hospital. You and other family members will serve as her caretaker until she is fully recovered and regains her independence. But in the event she is never fully ambulatory, there are decisions that need to be made regarding her home. Changes may be required. 
Figuring out how to get ready for after hospital home care is your top priority. What equipment, supplies and patient care products do you need?
If a hospital bed is necessary, contact the pharmacy you do business with. Some pharmacies have hospital beds and other assistive equipment you can rent. This bed will make it easier for the patient to get in and out of because it?s adjustable. A hospital bed is designed to be helpful to the caretakers, who need easy access to the patient.
Skin Care


If the patient is wearing adult diapers, change them often, making sure her skin is clean and dry. Clean the patient using a gentle, diluted soap and water, rinsing the area thoroughly and patting dry. Purchase products for sensitive skin. You can also use baby wipes. Do not use products containing alcohol because it dries out skin. Do not use fragranced products.
~
Comfort
Dress the patient in comfortable, nonrestrictive clothing, such as pajamas or sweats, which are easy to get on and off. Make sure they are not wearing slippery shoes, slippers or socks.
Bathing
If the patient is not going to be able to get into a regular bathtub on a permanent basis, consider installing a bath lift which helps individuals get in and out of the tub. A walk-in shower or tub are wonderful tools for those who aren?t as ambulatory as they once were. A traditional tub or shower can be converted into a walk-in. Put rubber mats in the tub or shower to the person won?t slip.
Mobility
A walker is a great assistance to those who have difficulty walking. The person supports his weight using his arms and holding onto the walker. There are various kinds of walkers including front wheeled, which the person places in front of him before he takes a step. Another version is the four wheeled walker or rollator. A cane is another valuable assistive device. It helps a person maintain his balance.
Chair and stair lifts are available. The lift transports a person up and down stairs. This definitely comes in handy if a person lives in a two-level home and wants to sleep upstairs in their bedroom. If there is a second floor, the staircase should be well lit and equipped with a sturdy banister to ensure the safety of those walking up and down the stairs.
Does the patient need a wheelchair cane, caretaker, chair lifts, home health care, hospital bed, how to get ready for after hospital home care, invalid, walk in tubs and showers, walker