How to layer necklaces like a pro
By Catalogs Editorial Staff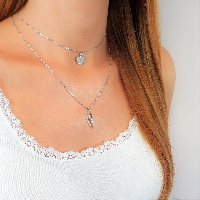 Create a fun and stylish look with layered necklaces
Layering necklaces is a great way to mix and match your favorite jewelry and add interest to an outfit, but it can sometimes be difficult to get the right look if you don?t follow a few simple guidelines.
Know Your Lengths
A general rule of thumb is to start with three different chain lengths (though you can get away with just two). Most start with a choker ? 16 inches or so ? so long as it doesn?t compete with the neckline of your shirt or blouse. In that case, start with a longer necklace that drapes below the neckline. 
Before you continue reading about the How to layer necklaces like a pro there is a special announcement we would like to share with you. Catalogs.com has negotiated special medicare rates for our vibrant community of seniors. If you are over the age of 60, you can head over to our Seniors Health Section which is full of information about medicare. All you need is your zip code and a few minutes of your time to potentially save 100s of dollars on your medicare bills.
Your second piece can be a focal piece, something with a splash of color or an interesting dangling pendant, or it can simply be a longer delicate chain or string of beads. You can go for just an inch or two longer, if you are going for a clustered look (in which case, stay away from big pendants and keep it dainty), or you can plunge several inches lower for a long, multi-tiered affect. 
~
For the third piece, if you aren?t going for a short cluster, it?s time to have some fun. If your second length wasn?t the focal piece, this one should be. Here you can get chunky and fun, or long and elegant. Lariat style necklaces have an elongated look that adds length to your torso, while a body chain can be an alluring final piece. 
Be Metal Conscious
The most basic rule about layering metal chains is to make sure they?re all the same color of metal. This rule, however, is for those who are playing it safe. It is absolutely possible to mix your metals, silver and gold, rose gold and yellow gold, white cold and copper. You just have to be careful how you do it. bea
The easiest way to ensure you can pull this off without the necklaces appearing to clash or look hastily thrown together is to wear one piece that is a mix of metals already, and then choose chains to compliment this piece. It also helps to have a focal piece of a different color temperature than its setting. A gold chain with a cool lapis lazuli pendant will pull in silver or white gold nicely. A string of silver and amber beads will invite silver chains and yellow gold alike. Feel free to mix your metals; just do it with intention. 
Commit to a Look
Just because the lengths are tiered and the metals match, it does not mean they should be worn together. And yes, it is fine for one piece to scream a bit louder than the others. However, you do not want to come off appearing haphazard. Remember, you are going for stylish here. Hip ? not demented. 
To avoid the eccentric grandma look, try to commit to a particular vibe. Match delicate with delicate. Chunky with slightly less chunky. A layering of simple chains with small embellishments will create a much more interesting style than a big pile of red wooden beads which totally overwhelm the smaller, daintier pieces. And varying the sizes of pendants works better than having two or three huge pendants all fighting for attention and laying on top of each other. 
If you do have one big focal piece with a pop of color, let the other necklaces be more subdued and settle back in their supporting roles. They can?t each of them be the star, or it just turns into a visual cacophony and none of it looks good. 
Those big red beads? Find some smaller beads of a similar texture and a similar or complimentary color to go with them. 
And don?t be afraid to play with a few different versions before settling on your perfect combination for the outfit in question. The layered look is all about variety, after all. 
Popular Savings Offers