How to look good all day
By Catalogs Editorial Staff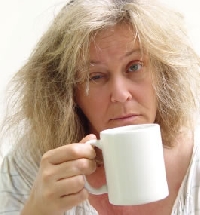 How to look good all day requires some work in the morning before you head out
How to look good all day: If anyone can tell you precisely how to do this in one fell swoop, they should bottle that information and make a billion dollars.
However, there are some tips that can be followed that help a person preserve her looks throughout the day, even when it?s stifling hot or bitter cold. Believe it or not, it's even possible to present your best face when you feel like you've been run ragged.
First off, the goal of looking good, and hopefully staying that way all day, requires a bit of work at the start of the day.  No, you can?t just jump out of bed; tie your bedhead-y hair up in a Scrunchie and bound out of the house in your pjs.  It?s impossible to look good an entire twelve hours if you aren?t looking good in the first place.
Before you continue reading about the How to look good all day there is a special announcement we would like to share with you. Catalogs.com has negotiated special medicare rates for our vibrant community of seniors. If you are over the age of 60, you can head over to our Seniors Health Section which is full of information about medicare. All you need is your zip code and a few minutes of your time to potentially save 100s of dollars on your medicare bills.
THE FACE
Start off with a clean face. Wash the face using the face wash or soap of choice. If the skin is dry skin, use products that moisturize, if the individual has oily skin, use oil free products. Everyone should moisturize, even those with dry skin. Moisturize with SPF lotion.
MAKE-UP
Use eyeliner and mascara that is resistant to smudging and smearing. Some women like waterproof mascara and others don?t.  There are products that help set make-up and are worth investing in and using.
If in a rush, put on some blush to provide color, swipe on a long-lasting lip stick (that doesn?t smear or cake) on the lips. What has just been done to the face, in five minutes tops, is a good foundation for looking bandbox good all day long.
~
OH, THAT HAIR!
Figure out what is the easiest and most flattering hairstyle. No one wants to be chained to a blow dryer or curling iron or flat iron for an hour every morning.  It may take a while to land on the perfect style but it will happen, eventually. The ultimate style is the one that looks the best, hopefully takes the least amount of time to achieve and looks as sharp and crisp at 8 p.m. as it did at 8 a.m.
Spend some money on a professional hair cut, styling and color job. A good blow-dry is considered non-negotiable by many celebrities, particularly those who are battling frizzy hair.
Applying a gel or serum to the hair can keep it looking good all day, even when it?s very hot and humid outside or windy. Another option is to pull the hair back into a chic ponytail or up into a bun. ]
SHOES
Don?t wear shoes that are caked in mud or have stepped in dog doo-doo. Polish your shoes occasionally or at least wipe them off. Your shoes can make your whole look tired if they aren't in the best possible shape.
PURGE THE WARDROBE
Does that t-shirt or blouse have a stain on it? Don?t wear it. Are those pants revealing a camel toe or the butt crack? Mother wouldn?t approve, nor will the boss and co-workers.
Do not wear anything that would put a mother into paroxysms of tears. Start with clean underwear. Throw away those undergarments that are torn, stained or have so little elastic in them that they threaten to fall down.
Throw away bras that have under wires that have gone wild and are gouging the wearer in the sternum, or remove the under wire altogether. If the bra is so old that it is providing virtually no support, pitch it.
Take a little extra time ? or devote a few hours to ferreting through your wardrobe on a Saturday ? and purge those items that don?t fit, were never flattering; are torn, ripped, stained or hideously out of date.
This is the initial step in achieving and maintaining a good look all day long.  Sometimes less truly is more. Eliminate the clutter and this allows cutting directly to the chase every morning, which saves money, time and prevents the wearer from hurriedly putting on something that should have been tossed in the dumpster years ago.

BUY CLOTHES THAT DON'T WRINKLE
Buy clothing that doesn?t wrinkle, such as cotton/poly, rayon blends, cotton/Lycra, and jersey. Knit fabrics, including cotton knits, wood blend knits and cotton blended knits are a good choice for a woman that needs to look her best for hours.
Is there an iron on the premises? Use it occasionally.
KEEP IT SIMPLE
Keep it simple and basic and then jazz it up later in the evening. A woman can?t go wrong wearing basics, such as a little black dress or a crisp white blouse with a slamming pair of pants paired with pretty but comfortable shoes, some simple accessories, clean hair, nicely manicured nails and a splash of a subtle fragrance.
If going out after work, add a pashmina or more jewelry ?bracelets, necklaces. This transforms the basic but pretty day time ensemble into something showy. Put on more make-up and create dramatic eyes and dark, come hither lips, which may or may not be appropriate in the workplace but are certainly appropriate when out socializing.
Popular Savings Offers
Carry baby-wipes with you so you can wipe off sweat or smeared make-up. Stash antiperspirant and a small container of hairspray in your purse so you can smell fresh and so that hair can be revitalized. Purchase Shout Wipe and Go, which are used to clean up stains and spots.  Ikea For Your Business
Free Catalog
C-A-L Ranch Stores
Shop Now
Cabela's Men's Clothing
Shop Now
Heartwood Creek Jim Shore Wholesale Catalog
Free Catalog
David's Bridal
Free Catalog
FragranceNet
Free Shipping
Aroma Naturals - Wholesale
Free Shipping