How to look trendy
By Catalogs Editorial Staff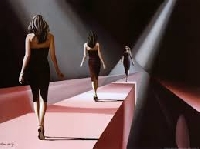 Knowing how to look trendy starts with watching designers and ends with dressing
Keeping up with the latest styles is important to those who want to be fashion-forward. Since fads change so often, knowing what is hip is time-consuming and can be quite a challenge. But when you know where to go to keep yourself up-to-date, you'll know how to look trendy.
Scan Fashion Magazines and Catalogs
It seems like in a blink of an eye what is on-point in the clothing industry can change. Just when you think you've got it all down, a new season and designer show you you've got it all wrong, at least for now.
Before you continue reading about the How to look trendy there is a special announcement we would like to share with you. Catalogs.com has negotiated special medicare rates for our vibrant community of seniors. If you are over the age of 60, you can head over to our Seniors Health Section which is full of information about medicare. All you need is your zip code and a few minutes of your time to potentially save 100s of dollars on your medicare bills.
One way to stay ahead of the trends is to scan fashion magazines. These publications often look at what designers are putting out for the upcoming season, and let their readers in on the new fashion looks. Taking a peek at these pictures allows you to prepare for the changes and get the designs that are in-style.
Sneakers are one fashion item that is restless and always seems to get a new makeover. For instance, dainty and demure tennis shoes was the footwear of choice for many in-the-know ladies. However, the bulkier, edgier sneaker wedge has now taken its place.
Looking at these types of publications allow you to stay abreast of the changes in the industry, so you can always look up-to-date.
Don't forget digital catalogs and retail websites when you are looking for the hottest new trends. These are often the most up-to-date places to find what is trending.
~

Visit the Stores
If you've ever wanted to find a nice, heavy jacket in the winter, you are probably all too aware of how quickly stores change seasons. When you're expecting to be greeted by aisles and aisles of warm coats, you often find yourself looking at shorts and bathing suits.
Stores want to stay in-tune with fashion swings, and will begin displaying their new, hot items early on. If you want to one-up your contemporaries, take a stroll through just about any hip clothing store and you'll know what is going to be popular the next season.
Purchasing a few of these items will help you to look fashionable and knowledgeable about what is stylish in upcoming months.
Know What Works For You
You can purchase all of the new trends you want, but it doesn't mean they will look good on you. In order to stay both fashionable and fabulous, you'll need to know what works for you. Oftentimes, this starts with your body shape.
Dressing for your body type means you'll wear clothing that fits you. It will accentuate your positive features, and hide those you think are flawed.
For instance, if you are an hourglass shape, your best features are in the middle — your chest, waist and hips. And although you look gorgeous in a bikini, you might now always look your best in trendy cuts that are designed for slim shapes.
You can take advantage of the print craze however, and work it into your wardrobe. Try wearing a bandage skirt that features a fun print. You'll show off your hips and bottom, but stay current, as well.
Athletic body shapes are toned, but don't have many curves. Show off your svelte body by wearing complimentary pieces. Stay updated by incorporating a pop of color.
Skinny jeans flaunt your long and lean legs, and wearing a neon-colored shirt that features ruffles adds that bit of trend you are looking for, and also softens up a slightly masculine figure.
Pear-shaped women have fuller lower halves, which makes wearing the latest tight dress sometimes difficult. However, they often have small and defined waists, which should be showed off. Do so by wearing a dress that features a belt. This accessory shows off your small mid-section and takes the attention off of your full hips.
Add a large bag to your look, as well. Doing so helps you stay contemporary, and also takes some of the focus off of your hips. There's a reason why celebrities who are expecting, but aren't ready to share the news, often hide their tummies under big purses.
Apple shapes tend to be the same size in the shoulders and hips, and have gorgeous legs. Show  them off by wearing a boxy top and shorts. The top can camouflage a full stomach, and your legs will steal the show.
Stay in-vogue by wearing jeans that feature dark panels on the pockets and inner thigh. They will draw attention to your lovely lower-half and make your legs truly eye-popping.
Knowing how to look trendy does take some work, but it allows you to show off your fashion sense and look your best, making the effort worth it.
References:
Popular Savings Offers
By Celina: How to Dress Trendy According to Your Body Shape