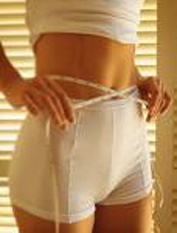 There's no magic formula to weight loss, but these steps can help
Your best friend's wedding is coming up in a few months, and she's chosen a beautiful dress for her bridesmaids.  Slinky, form fitting. Something that will show every curve. Unfortunately, you have some curves and bumps you'd rather didn't show! 
So how can you slim down and make that gown look great? By following these simple guidelines, you'll discover how to lose ten pounds in 3 months, and tone at the same time. 
Get moving ? Sounds simple, but one of the hardest things for most people to do is give up that time in front of the tube and get active. Start with something you love; this is not the time to take on any activity you feel is a chore. Invest in a pedometer, a new tennis outfit, or a great new swimsuit and jump into a more active lifestyle. Start small, and add a little more every day. Your calorie burn will go up, and the pounds will start to drop off.
~
Cut out the junk ? Sure, it's just a can of soda, but did you know that it probably contain almost 16 teaspoons of sugar? And that innocent looking bag of cookies from the office vending machine? You might be surprised to find that the nutritional information on the back is for only half the bag!  If you finish it off, you're getting double the calories and fat.  Check out your neighborhood Whole Foods Market or other natural food store for low fat, healthier alternatives like fruit waters and high fiber low fat cookies. 
~
Rough it up — White sugar, white flour and processed food all pack on the pounds. Substitute whole grain breads, whole wheat flours and natural sweeteners like fruit juices. Or even better, replace sweets with fresh fruit and veggies to help your body fuel up without relying on empty calories. Fiber, also called roughage, will fill you up, and help your body work more efficiently and that helps you lose weight.

Stay away from artificial sweeteners ? Research suggests that artificial sweeteners actually increase cravings for sweets and other foods. Other research indicates that they may increase fat retention in the body: an important factor whether you're trying to lose ten pounds in 3 months, or maintain a healthy weight in the long term.
Firm up with Pilates ? While all exercise is beneficial, when you're trying to get in shape for a special event, Pilates or a Pilates and Yoga combination can help you tone up. That makes every pound you lose look like two or three. 
Avoid fad diets ? Design a food plan that offers you a balanced variety of proteins, carbs, and fats. No one food is all bad, nor is any one type all good. Our bodies are designed for balance, so maintaining that will help you lose and maintain that loss over time.
Following these steps will have you looking great at that wedding, or wowing the people at your class reunion. Simple changes, big results!