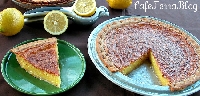 Learn how to make chess pie for the perfect end to a soul food menu
A Southern Classic, tales of where the Chess Pie originated are one and many. The first and most tangible story comes from James Beard's American Cookery (1972) cookbook, where he suggests that chess pie was originally from England, but could be also found in Virginia and New England states. Another theory was that it was called "just pie," because of the simple ingredients.
Traditional ingredients in Chess Pie are eggs, sugar, butter and what makes it so special is the addition of corn meal. The main ingredients in this pie, basically the eggs and sugar, make this a version of a custard, a rich and creamy dessert on a pie crust.
Some bakers, like Terra Baltoseiwich of Cafe Terra Blog, decided to add lemon juice to create a unique variation of this traditional pie. You can also add vanilla extract for a classic flavor that you can?t go wrong with.
Another delicious variation Terra has added in her Chess Pie is Greek yogurt, which creates a dessert lower in fat content because the yogurt is now substituting the butter. If you?d like the butter flavor, why not just add a teaspoon of buttered rum extract? A great way to add extra flavor without the extra added fat and you?ll get that wanted flavor!
Terra recommends: ?To ensure a creamy filling, be sure to blend the eggs and sugar mixture until the eggs are light and slightly foamy. Under blending at this point will cause a gritty texture in the pie.? Another great tip is to bake the pie for 50 minutes, and although it will not seem completely set, refrigerate and it will set without over-baking your pie crust edges.
~
Lemon Chess Pie
Recipe Credit: Terra Baltosiewich of Caf? Terra Blog
Ingredients
2 cups of sugar
1 Tbsp of white cornmeal
1 Tbsp of flour
3 eggs, room temperature
1 cup 2% Chobani Greek Yogurt
4 1/2 Tbsp butter, melted
1/3 cup lemon juice
1/3 cup half and half
Zest of one lemon (about 2 Tbsp)
Single pie shell (packaged or homemade)
Directions
Preheat oven to 325 degrees F, spray 9 inch pie pan with cooking spray. Place pie shell in pie pan, cut extra edges off, and pinch around edges to make a nice crust.
In large bowl, with electric mixer, mix sugar, flour, and cornmeal together. Then add in one egg at a time, then add in Greek yogurt and blend well until pale yellow and slightly foamy. Add in lemon juice, half and half, and butter, continue to mix well, and still foamy in appearance.
Fold zest into filling, then pour filling into pie crust, bake for about 45 minutes or until filling is set all the way through. You will look for a light brown appearance on top, and crust will begin to brown. Let cool. You can serve it once cool, or refrigerate until ready to serve.
Serve after a Southern meal that includes black eyed peas, skillet corn bread , and the always classic and delicious fried chicken. Now, go get your baking on!
References
Cafe Terra Blog: Lemon Chess Pie
Southern Living: Taste of the South