How to pull a look together
By Catalogs Editorial Staff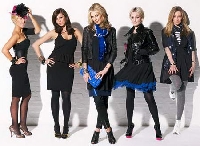 Accessories are key to pulling a look together for a personal fashion statement
You are not fashion savvy. It is simply NOT in your DNA. You are hopeless and have no idea how to pull a look together. Yet, you are expected to make an appearance at a party where networking will take place and you may get a job out of it, which you desperately need.
What should you wear? The only thing you own remotely presentable is a little black dress. What should you wear with it? Anything?
The key to understanding how to pull a look together, starting with wardrobe basics, is to practice and master the art of accessorizing.
Before you continue reading about the How to pull a look together there is a special announcement we would like to share with you. Catalogs.com has negotiated special medicare rates for our vibrant community of seniors. If you are over the age of 60, you can head over to our Seniors Health Section which is full of information about medicare. All you need is your zip code and a few minutes of your time to potentially save 100s of dollars on your medicare bills.
Jacket or Dress Suit
Invest in one good jacket (more if you can afford it.) A quality, well-structured jacket can be tossed on over anything — a little black dress, a shirt and jeans, a t-shirt and skirt — or even over your PJs if you have to make a mad dash to the convenience store at midnight.
One of the easiest ways to pull together a look that incorporates a black dress and a jacket is to invest in a versatile dress suit. This will get you from office to luncheon to church, with little effort and a timelessly classic, flattering silhouette.
Heels and a purse

Invest in a good pair of high heels. Black is a good choice. What about your purse? If you routinely carry a slouchy, hobo bag you may want to switch it up to something more chic and professional looking when going to an important meeting or party. Shop for purses. Take someone with you who knows a thing or two about style. Carry it around. Put the strap on your shoulder. Does it feel good? Look right? Would you prefer a clutch? Decisions, decisions.
~
If your shoes are black, the bag you carry should be black or feature black for a cohesive look, although this rule is not carved in stone. Sometimes mixing and matching accessories, if done right, is an extremely good look. Experiment and see which look pleases your eye. Take one of your fashion forward friends with you when you shop for clothing and accessories. She or he can help steer you in the right direction.
Body Type
Dress for your body type. If you are bottom heavy and want to conceal that, wear long jackets that camouflage that portion of your body. Draw attention to your neckline by showing some cleavage (how much depends on the situation) and wearing sparkling jewelry at your throat and on your ears, but don't get carried away with the bling. Sometimes less is more. No one is going to notice your ample rear end when the top part of you looks so beguiling.
If you have long, shapely legs, show them off. If you hate your legs, wear dark tights under your LBD or skip the dress altogether and don a long skirt or a great pair of trousers. Emphasize the parts you like about your body and cleverly disguise those that you don't want to draw attention to. Avoid frills, fuss and ribbons or frou frou that can easily lead you down the path of not pulled together-ness.
Belts
A belt can add pizzazz to a boring little black dress. Belts can be dressy or casual. "Statement" belts are those featuring bling and meant to stand out and be seen. Buy a belt with a fabulous clasp or one with studs. What about a western belt? The perfect belt transforms a LBD or any outfit into something spectacular.

Nails
When a woman's nails are polished and neat this improves her appearance exponentially. If your cuticles are ragged and you've chewed off most of your fingernail polish you probably aren't going to proudly show off that beautiful ring a certain so-and-so just gave you. Try to get in the habit of regular manicures, whether done professionally or by yourself. Keep those fingers out of your mouth. If Princess Diana could break this habit, so can you!

Popular Savings Offers
The Source
Shop Now
Crazy Shirts - Women
Up to 70% Off
Emergency Medical Products
Shop Now
Dollar Tree - Weddings & Events
Free Catalog
Get Help With Your Medicare Costs: Getting Started
Free Catalog
Hickory Farms
Free Catalog
Cintas Uniforms
Free Catalog