How to send engagement announcements
By Catalogs Editorial Staff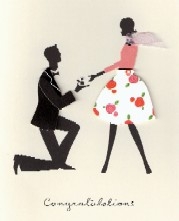 Engagment announcements let you tell the world of your love
What a wonderful time!  He popped the question and you said yes!  Now you get to share that news with the world.  You can call everyone you know and use up all your cell minutes — or you can send engagement announcements.  This timeless tradition allows you to share the happy news with family and friends far and wide.
When and how to send engagement announcements
So when do you send out the news?  According to etiquette pros, the mother of the bride gets to send out engagement announcements as soon as the proposal is official. It can be issued by the couple, but is usually issued by someone else on behalf of them.  The bride's mother is traditional, but if she is unavailable, the bride's father, aunt, uncle, grandparents or siblings can issue it.  The groom's family does not send engagement announcements.
Before you continue reading about the How to send engagement announcements there is a special announcement we would like to share with you. Catalogs.com has negotiated special medicare rates for our vibrant community of seniors. If you are over the age of 60, you can head over to our Seniors Health Section which is full of information about medicare. All you need is your zip code and a few minutes of your time to potentially save 100s of dollars on your medicare bills.
It's a good idea to tell very close friends and immediate family members before the printed announcement goes out. Otherwise, they might hear about the big event from someone in the store or at school, instead of from the bride and groom, and that could lead to hurt feelings.
Even if the couple decides to send out their own announcements, the same rule applies.  Postal delivery is unpredictable, so it's best to share the news with those closest to you first.  You can still send them an announcement as a keepsake, if you choose.
What's in an engagement announcement? 
An engagement announcement is a way to let friends and family know that a wedding will be coming up soon.  It may or may not state the planned date for the ceremony, but it always includes the full names of both the bride and groom and the date of the announcement.
~
Engagement announcements can take several forms. A lovely, printed card is the classic choice, although some people are now sending virtual announcements via e-mail.
Another form of engagement announcement is the one that appears in the newspaper or other printed media.  This may be as brief as a statement of the bride and groom's names and their general wedding plans (i.e. " A September wedding is planned") or as long as a paragraph or two describing the couple's meeting, wedding plans, family connections and occupations. Your local newspaper's Society Editor can provide you with information about the requirements in your area.
Addressing printed announcements
One of the biggest questions that arises when people inquire about how to send engagement announcements is how formal the addresses should be.  Is is okay to address them to "Brenda Wyeth" or must you write "Ms. Brenda Wyeth?"  How about couples?  Is it "Bob and Laura Rose" or Mr. and Mrs Robert Rose?"
While each couple makes their own decision, the etiquette experts say that engagement announcements should be addressed as formally as wedding invitations or announcements.
When a destination wedding is planned
If the couple is planning a destination wedding and will be inviting some or all of the people receiving announcements, including a note alerting the possible guests to an upcoming trip is a kind thing to do.  Do not print in on the engagement announcement unless everyone who receives an announcement will be invited.
Popular Savings Offers