How to send something to the troops
By Catalogs Editorial Staff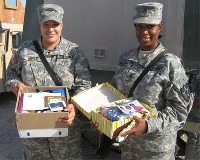 Here's how to send something to the troops that is easy to order and mail
A number of people, regardless of their political stance, are moved by the sacrifice and courage demonstrated every day by our soldiers. Those who want to show their thanks and support can do so by learning how to send something to the troops.
Shipping care packages to members of the military is no small gesture. For the men and women stationed abroad who receive your package, it?ll be a highlight of their day, possibly their whole week. Everything sent is savored and shared. 
Whether you?re interested in sending gift baskets to a platoon or hand knitted scarves and hats to troops in winter, your package will be a huge morale booster.
Before you continue reading about the How to send something to the troops there is a special announcement we would like to share with you. Catalogs.com has negotiated special medicare rates for our vibrant community of seniors. If you are over the age of 60, you can head over to our Seniors Health Section which is full of information about medicare. All you need is your zip code and a few minutes of your time to potentially save 100s of dollars on your medicare bills.
You either order a care package for troops online and leave shipping up to the experts. Or, you can package up thoughtful items on your own and deal with packing and shipping.
Before you head to the post office, know that there?s a process to follow and some restrictions on what can be sent. Prohibited items include:
Pork and pork by-products

 

 
Pornographic and other material sexual in nature

 

 
Obscene images or reading material

 

 
~
Items that are allowed but not recommended for practical reasons:
Chocolate (because it melts)

 

 
Aerosol cans

 

 
Highly perishable foods

 

 
If you?re putting together a care package, here are a few
gift ideas for soldiers
and recommended items to consider, according to AdoptaPlatoon.org:
Hygiene items

 

 
Packaged food like cans and boxed snacks (must be unopened)

 

 
Nuts and beef jerky are long-lasting snacks

 

 
Fun gifts like games, stationary, Frisbees, magazines and other simple activities to stimulate them during down time

 

 
Packaging
Knowing how to send something to the troops is mostly about familiarizing yourself with the details. The only company permitted to ship your package to overseas military members is the United States Postal Service. You?ll need to fill out both customs declaration forms and Dispatch Note 2976-A.
Shipping costs range from about $5 to $13, depending on the size of your package. You?ll need to use Priority APO/FPO/DPO boxes or the padded envelopes available for free. You can pick these up at your local post office or order them online.
It's recommended that senders organize items by category. If sending multiple boxes, keep like items together so they?re easier to share. For instance, pack games in one box and hygiene items in another one. Seal any liquid soaps in Ziploc baggies to be safe.
Use as much of the space in the envelope or box as possible. Packing it full prevents things from shaking around and breaking. Secure the top and bottom of any boxes with layers of packing tape. Go over any gaps between the flaps to ensure nothing can fall out.
Fill out a PS 2976 form (for documents) or 2976-A form. You can find samples at the UPS site. Take your time filling out these forms as every piece of information you provide the military must be accurate.
Address your package to a specific person, package or ?any soldier? to have it given to someone who receives the least or no mail. You can find addresses for soldiers, airmen and women, sailors or marines at AnySoldier.com.
Arrive at the post office prepared
You can?t control the wait lines, but arriving at the post office prepared will save you a lot of grief. Have the top and bottom of your boxes well taped. If you don?t have tape, they can provide priority mail tape for free. Also have the customs forms filled out so they can attach them to your package.
While it?s not essential, getting delivery tracking tells you when your gift is received. This is just a nice, rewarding thing to know.
Now that you're up to date on how to send something to the troops, spread the word! Let people know what you?re doing and make it a party. Invite friends and local groups to contribute and one small gesture may grow to a whole community effort.
Popular Savings Offers