How to use chocolate in Mexican cooking
By Catalogs Editorial Staff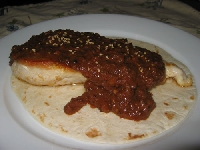 Use chocolate in Mexican cooking with a traditional mole recipe
Chocolate has been an important ingredient in Mexican cooking for thousands of years.  The Ancient Mayan and Aztec civilizations first grew cacao trees and used the cacao seeds to produce a frothy, chocolate drink called xocoatl.  Xocoatl, which often included additional spices such as chili powder and vanilla, is considered to be the most primitive version of
hot cocoa
, and certainly the earliest instance of indigenous peoples using chocolate in Mexican cooking.  
Cacao is a native ingredient in Mexico and Mesoamerica; and as a result the flavor has been incorporated into Mexican recipes and cuisine through the centuries.   Many celebrated Mexican dishes, sauces, desserts and drinks utilize chocolate or cacao as a primary ingredient.  Today, many boutiques, high end or ethnic grocers, and chocolatiers sell Mexican chocolate.
How is Mexican chocolate different from other varieties of chocolate?  Mexican chocolate is the specific name for dark bitter chocolate, or ground cacao, that has been sweetened with sugar, cinnamon, chili, nutmeg, vanilla and often nuts such as almonds as well.  
Before you continue reading about the How to use chocolate in Mexican cooking there is a special announcement we would like to share with you. Catalogs.com has negotiated special medicare rates for our vibrant community of seniors. If you are over the age of 60, you can head over to our Seniors Health Section which is full of information about medicare. All you need is your zip code and a few minutes of your time to potentially save 100s of dollars on your medicare bills.
Mole sauces are some of the most famous Mexican recipes that call for Mexican chocolate.  Mole sauces are typically used as a sauce, or glaze for meats, rice, or beans.  Mole sauces have been named as the ?national dish? of Mexico, and are typically served during holiday celebrations surrounding Cinco de Mayo.
~
Here is one traditional Mole recipe perfect for chefs and other culinary enthusiasts who are interested in using chocolate in Mexican cooking.
Mexican Dark Mole Recipe
Ingredients:
12 chicken thighs, bone-in and skin on
1 Tbsp olive oil
Salt and pepper to taste
2 oz. chihuacle negro chilies
4 cloves garlic, chopped
1 medium onion, chopped
2-3 Tbsp sesame oil
10 ancho chilies, dried
2 Tbsp raisins
1/4 cup sliced almonds
1/2 tsp cinnamon
8 grinds black pepper, or to taste
1 tsp dried Mexican oregano
1 Mexican green tomato or tomatillo, chopped
3 whole cloves
2 tsp dried thyme leaf
1/4 cup lightly toasted sesame seeds
1/3 cup crushed oyster crackers (or soda crackers ? something with low salt content)
1 cup canned ground tomato (or tomato puree, or fresh peeled, seeded chopped tomato)
a 3″ x 1/2″ piece of Mexican cacao chocolate
2 cups or more chicken broth
salt and sugar to taste
1 package smallest size corn or spinach tortillas (or whole wheat, or flour ? whatever you prefer)
Directions:
Preheat oven to 325?F. Rub chicken thighs with olive oil, and sprinkle with salt and freshly ground black pepper. Place skin side up in a roasting pan just large enough to hold them. Add 1/4 inch of cold water. Cover with aluminum foil. Roast in the oven for 1-1/2 hours (until thights are very tender) while completing the rest of the menu.
Soak the chili peppers in warm water to soften, then remove stems. Drain and chop roughly.
In a small dry (no oil) frying pan, toast the sesame seeds until they just turn light brown. Remove from pan and set aside.
In a 3-1/2 quart pot or deep frying pan, saute the onion and garlic in canola oil until the onions are translucent. Add the chiles and saute for 2-3 minutes.  Add raisins, almonds, spices, sesame seeds, and crackers. Stir constantly over low-medium heat for a few minutes, until you have a thick paste and all ingredients are cooked through.
Puree mixture in a food processor with a few tablespoons of broth, and return mixture to the pan. Add tomatoes, tomatillos, chocolate and enough chicken broth to make a smooth sauce. Continue stirring and cook until the chocolate is melted and the sauce is thickened, but still a little bit runny. Add more broth (or water) as needed to achieve desired consistency.  Add salt and sugar if needed.
In a dry skillet or griddle, heat tortillas on both sides until lightly browned but still pliable (1 minute on each side on a hot griddle).
Remove chicken from the oven and place on a serving platter. Cover with mol? sauce, and serve with tortillas. 
Enjoy your Mexican chocolate mole with a cold Mexican beer, margarita or tall glass of cold lemonade. Add mariachi music, and it's a fiesta!
Popular Savings Offers