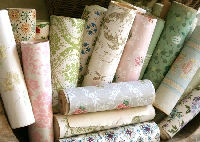 Wondering is wallpaper in style? Take some designer hints – it always is!
It really doesn't matter if wallpaper is "in style" or the latest household decorating trend. If you like wallpaper, use it in your home.
However, for those concerned about being trendy and wondering, "Is wallpaper is in style?" it is true that certain home decorating styles wax and wane. They are faddish for a while and then fade into the sunset and that includes wallpaper. Yet wallpaper always resurfaces at some point and some people have never stopped using it.
Wallpaper is not going the way of avocado-colored kitchen appliances, which one hopes are never heard of again.
To some, ?wallpaper? may seem like an antiquated notion. It?s what your great-grandmother had in her house.
But wallpaper has changed. There are fabulous contemporary wall coverings that don?t look anything like what was used years ago.Of course, if you want a vintage look, you can find that, too. Essentially, wallpaper is in style and always has been although to a lesser extent at times.
Wallpaper is a great way to introduce personality into your home. With the recent innovations made to wall coverings, such as the inclusion of beading, embellishments and crystals, you can create just about any look that you like using wall coverings.Wallpaper is superlative when it comes to adding warmth, charm and beauty to a room. You can achieve effects using wallpaper that you just can?t accomplish with paint.
~
PAINT VS. WALLPAPER
Paint is more popular than wallpaper because it?s easier to apply and is often less expensive. You can always paint over paint but you really shouldn?t paint over wallpaper. When you do that the areas where the wallpaper joins will show. However, wallpaper is going to last longer than a paint job, which is going to save you money down the road.
Wallpaper lasts five years longer than paint, according to the Hite Report that was created for The Belly Systems. Wall coverings that are of the vinyl variety keep their beauty as well as continue to perform well for 15 years.
Obviously, wallpaper is going to cost more than paint initially; however, over time, using wallpaper can save you 30 percent because you do not have to repaint every three years. When you paint, you must factor in the labor and material costs, particularly if you are not doing it yourself. Vinyl wallpaper can be washed, which should be done every five years. The upkeep of wallpaper is far less expensive than the upkeep of paint.

YOU'VE COME A LONG WAY, BABY
Wallpaper has come a long way, baby. Wallpaper is now made so that it is very durable. There are a slew of patterns, colors and textures to choose from. You can select foil, vinyl, cork or fabric wallpaper. Some wallpaper is actually scented and gives off a subtle scent. Other wallpapers are infused with particles of charcoal that serve as a natural deodorizer for the interior of your home. Organic wall coverings are available as is metallic wallpaper.
Consider using a wallpaper mural in your child's room. This is a wonderful way to decorate a room and there is certainly nothing out-of-style about this approach to decorating. There are lots of innovative options nowadays when it comes to using wallpaper.
TYPES
There are numerous types of wallpaper including those with coated fabric. This means the wallpaper consists of a fabric substrate that has been coated with acrylic or liquid. The decorative layer of the paper is printed on the coating. Coated fabric wall coverings are good for bathrooms and kitchens where there is moisture because it is breathable wallpaper.
Vinyl coated wallpaper resists moisture and grease and is also good for us in the bathroom or kitchen. The decorative surface of this wallpaper has been coated or sprayed with PVC, which is polyvinyl chloride or acrylic type vinyl. You can scrub this type of wallpaper.
Solid Sheet Vinyl/Paper Backed Vinyl is wallpaper that resists grease, stains and moisture and you can scrub it. The decorative surface of the paper is a solid sheet of vinyl, which makes it quite durable whereas fabric backed vinyl has a substrate that is laminated to a solid vinyl surface that is decorating.
An even more durable type of wallpaper than paper-backed or fabric backed vinyl is solid vinyl. This type of wallpaper can withstand serious washing and scrubbing.
There are also various types of paper wallpaper which are not coated.
Wall paper borders can be used with wallpaper or on a painted wall. Borders add visual detail and interest to a room and create visual illusions depending on the way you use the border.
Don't worry about what is or isn't in style. Decorate your home the way you want to and this may include using wallpaper.