When you buy something using the retail links in our posts, we may earn a small commission. Catalogs.com does not accept money for editorial reviews. Read more about our policy
here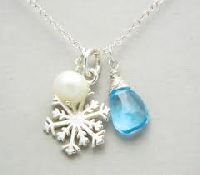 Wearing jewelry for the holidays isn't required, but adding sparkle should be!
Adding jewelry to your fashion statement is appropriate for just about any occasion, but when the holidays come around, it seems that the gorgeous accessories are almost required. Nothing can brighten and make an outfit more festive than a few baubles here and a few diamonds there.
Wearing jewelry for the holidays can make you sparkle and look even more beautiful than the home you have so carefully decorated for the season.
Pendants
Pendants are often festive to begin with, but even more so when they are adorned with holiday-related items. For instance, a Swarovski crystal snowflake pendant not only makes your neck and collarbone-area sparkle, it incorporates the magic of the holidays into your look, as well.
The snowflakes are petite and demure, and will look gorgeous hanging around your neck. They make any of your outfits festive and show the world you are ready to welcome in the holidays with style.
~
Pendants that feature your religious holiday beliefs are also appropriate for this time of year. For instance, a beautiful cross or Star of David adds accents to your look, and also lets you pay homage to your religion.
Of course, just about anything looks better when diamonds or crystals are involved, therefore, look for pendants adorned with stones. 
Earrings
Spruce up your look and usher in the holiday season with a glamorous pair of earrings. Incorporate the colors of the season in your ear adornments to really add a festive touch to your look. Donning a pair of emerald earrings not only draws even more attention to your face, but are quite festive for Christmas. Ruby earrings are also amazing, as their deep, scarlet hue is not only fabulous, but ties into the holidays. Earrings that feature both exceptional stones are even more luxurious.
Fortunately, many styles of earrings are available to suit your taste. Post earrings sit pretty on your lobes, whereas hoops hang down at just about any length to add some bounce to your look. If you're looking for dangle-style earrings, you're in luck, as you have many options. From chandelier to drop, you're sure to find a style you like.
Diamonds are always festive, and you can find many earrings that are appropriate for the season. If you want to tie your jewelry into the weather, go for snowflakes or a similar theme. Earrings that look like gift boxes add holiday charm to your look, as do small menorahs. Essentially, whatever you are looking for to grace your ears, you can likely find.  
Bracelets
With charms and stones of a variety of colors, bracelets easily allow you to add some seasonal cheer to your look. Whether you are donning gold, platinum, white gold, black or sterling silver, bracelets make your wrists look better than ever.
Wear stones that are seasonally-inspired, such as diamonds, rubies or emeralds, or look for bracelets that feature decorative charms. These delicate accents add charm and style to your look and helps you bring some seasonal flair to your outfit.
Broaches
Broaches are an easy way to add instant seasonal spice to your ensemble. Sweaters, jackets and coats become instantly festive when you place one of these gorgeous pieces on their fabric. So many styles are available, you will likely find exactly what you are looking for. They add a certain vintage charm to any ensemble.
Intricate designs featuring gorgeous stones are perfect for this look, as are more obvious seasonally-inspired ideas, such as a Star of David, menorah, cross, present, Santa Claus, reindeer or whatever you had in mind.
Adorning one of these pieces on your lapel adds color, style and texture to your look. 
Nothing says "seasonal cheer" like wearing jewelry for the holidays. Doing so adds style, elegance and charm to your outfit, and donning these accents couldn't be easier, or more enjoyable.
Resources:
Oprah: The Holiday's Must Have Accessory — Stunning Black Jewelry