Easy low calorie breakfasts with fresh foods
By Catalogs Editorial Staff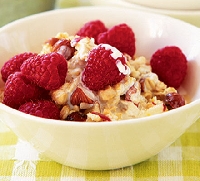 Best Breakfast Recipies: Three Simple, Delicious and Healthy Ideas
Did your mother ever tell you that breakfast is the most important meal of the day? Believe it or not, mom was absolutely right!
Eating a healthy breakfast
is a wise move for a variety of reasons. 
First, after resting all night without eating, breakfast – even a carefully planned low calorie breakfast – can help to boost your energy levels to face the day with a revived spirit. Eating a healthy meal in the morning can also help to stave off daytime hunger, thus reducing the desire to snack between meals. 
In fact, doctors, medical experts and nutritionists who manage weight loss programs, all recommend that eating a healthy breakfast is a vital step toward consistency in dieting.
Before you continue reading about the Easy low calorie breakfasts with fresh foods there is a special announcement we would like to share with you. Catalogs.com has negotiated special medicare rates for our vibrant community of seniors. If you are over the age of 60, you can head over to our Seniors Health Section which is full of information about medicare. All you need is your zip code and a few minutes of your time to potentially save 100s of dollars on your medicare bills.
While breakfast is clearly an important meal, the biggest problem with many breakfast foods is that they are high in sugar and calories. Scarfing down a bowl of frosted flakes or some glazed doughnuts doesn't exactly constitute a healthy breakfast, nonetheless, this is the type of breakfast that many people resort to in the midst of the hectic morning rush for work, school or other commitments.
If you are committed to loosing weight, improving your health, or simply feeling better in the morning and throughout the day, then it's time to stop and think carefully about whether your morning meal routine actually involves a low calorie breakfast. A breakfast that includes fresh foods is, more often than not, naturally low calorie.
Believe it or not, you can still lose weight eating delicious meals that include pancakes, waffles, fresh fruit and even omelets. Use fresh foods, raw fruit as toppings, and unprocessed whole grains. So, start your day on the right foot and try these three simple low calorie breakfast recipes, all under 300 calories.
~
Three Simple and Delicious Low Calorie Breakfast Recipes:
Waffles With Blueberry Maple Syrup
                      
Ingredients:
1/3 cup fresh blueberries
2 teaspoons maple syrup
2 whole-grain waffles
1 tablespoon pecans
Directions:
Microwave blueberries and syrup together for a minute, until berries are soft. Toast waffles and top with warm blueberry syrup. Sprinkle with pecans. Substituting fresh strawberries is another way to enjoy this easy low calorie breakfast with fresh foods. Whole grain waffles can also be topped with other fresh fruits, like bananas, or fresh ricotta cheese.
Spinach and Bacon Omelet

Ingredients:
1 egg plus 2 egg whites
2 slices cooked turkey bacon, crumbled
1 cup baby spinach
Cooking spray
1 slice whole-grain toast
1 teaspoon butter
Directions:  
Whisk together eggs, bacon and fresh baby spinach.Coat a skillet with cooking spray; cook egg mixture and serve with toast and butter. Prepared properly, this low calorie breakfast contains less than 250 calories.
Pumpkin and Granola Parfait
Ingredients:
1 container (6 ounces) plain low-fat yogurt
2 teaspoons honey
1/4 teaspoon pumpkin-pie spice
1 whole-grain crunchy granola bar, crumbled
1/2 cup canned pumpkin
Directions:
Combine yogurt, honey and pumpkin-pie spice and stir. In a bowl, layer yogurt mixture, granola-bar crumbs and pumpkin. Enjoy!
If you don't have time to prepare healthy, well-balanced low calorie breakfasts, you can plan your grocery shopping to ensure the best diet meals with a refrigerator full of fresh foods and organize meals ahead of time. Often times, people who are committed to low calorie menu-planning benefit from delivered meals, especially those that are prepared with fresh ingredients.
Resources:
Breakfast and brunch ideas
Raw Food Breakfast Ideas
Popular Savings Offers