Medical equipment for home patient care
By Catalogs Editorial Staff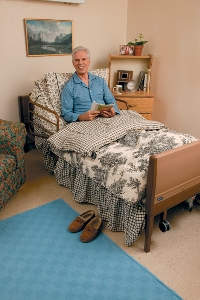 Medical Equipment For Home Patient Care: How to Transition from Hosptial to Home
Taking care of a seriously ill or injured loved one can be one of life's most challenging responsibilities, demanding emotional, physical and financial commitments. No one ever plans or prepares for a major medical crisis. Most people are uninformed when it comes to the current selection of services and support and medical equipment for home patient care.
If you or someone you know is facing a major medical ordeal, or a transition from a hospital to home health care, here is a list of valuable tips to help ensure the comfort and support of both patients and families involved. 

Valuable Tips, Services, Products and Medical Equipment For Home Patient Care
1)    Obtain clear, detailed discharge instructions from physicians and medical staff prior to leaving a  hospital or heath care facility. Effective communication among physicians and between patients and physicians is the most important component of a successful discharge. 
Before you continue reading about the Medical equipment for home patient care there is a special announcement we would like to share with you. Catalogs.com has negotiated special medicare rates for our vibrant community of seniors. If you are over the age of 60, you can head over to our Seniors Health Section which is full of information about medicare. All you need is your zip code and a few minutes of your time to potentially save 100s of dollars on your medicare bills.
2)    The process of getting comfortable with a loved one's medical conditions and home health care needs actually begins at the hospital. It is crucial for family members to learn from the medical staff by closely observing how they care for a patient, how they operate and maintain the medical equipment such as respiratory care products or oxygen equipment. Family members should be sure to ask questions about anything you don't understand.
~
3)    Many hospitals employ staff social workers who can help to coordinate a team of medical professionals and home health aides, as well as home medical equipment suppliers. Be sure to inquire about retaining a staff social worker to help develop a support network for your patient.
4)    Major advances have been made in the quality and availability of medical equipment for home patient care. For example, specialty electric hospital beds, designed to accommodate pressure relief that can prevent ulcers, bed sores and other complications due to immobilization are now widely available. Low air loss mattresses and pressure relief cushions are other important accessories that should be considered by those purchasing specialty beds.
5)    Nutritional intervention may be required for some home health care patients. Staying well nourished is essential to a patient's normal growth, development and healing process. Oral feedings, tube feedings and total parenteral nutrition are some of the options when it comes to nutritional intervention. Fortunately, advances in medical care have led to new, unique supplements such as disease specific enteral formulas, and even calorie rich supplements flavored as chocolate, strawberry or vanilla. Families responsible for managing the nutritional intervention medical equipment for home patient care should work closely with medical staff to educate themselves about the operation and cleaning procedures for this equipment.
6)    Qualifying for medical equipment, and working with insurance providers to determine eligibility for Medical equipment for home patient care can be one of the most frustrating experiences of families responsible for an injured or seriously ill patient. Be sure to carefully review insurance guidelines, obtain necessary authorizations and complete all forms required for medical equipment.
Post-hospitalization home care for a patient can be an overwhelming task requiring families to mobilize the resources necessary to meet a loved one's needs. However, many studies have proven that home care adds to the comfort, feelings of security, and quality of life for seriously ill or injured patients. Furthermore, patients who can obtain effective medical care in the comfort of their own home have been show to have a more positive emotional outlook and a faster recovery period.  
Popular Savings Offers